Ariel Castro was born to Pedro Castro and Lillian in Puerto Rico. He was an infamous kidnapper of the millennium. In his entire life outside captivity, he pleaded guilty to 937 criminal activities, including Murder, Rape, and kidnappings. Two movies, including one documentary, have been made to showcase the life story of Ariel.
He abducted three women and kept them captive in his house. In addition, he subjected these women to routine torture, abuse and starvation. His deeds portray that he is a psychopath! His parents were divorced when he was in his initial years. He hanged himself to death in his detention cell at the rehabilitation centre. 
Ariel Castro's Overview
| | |
| --- | --- |
| Birth Name | Ariel Castro |
| Age | 53 |
| Date of Birth | July 10, 1960 |
| Place of Birth | Duey, Puerto Rico |
| Place of Death | Correctional Reception Center, Ohio, US |
| Date of Death | September 3, 2013 |
| Nationality | American  |
| Occupation | Bus driver, Criminal |
| Net Worth | $1 million to $2 million |
| Father | Pedro Castro |
| Mother | Lillian Rodriguez |
| Siblings | Nine (Full and Half Siblings) |
| Sister | Marisol Alicea |
Early Life, Education, and Family (Parents and Siblings)
Born on July 10, 1960, to Pedro Castro and Lillian Rodriguez, Ariel Castro was a child when his parents got divorced. Pedro shifted to the mainland US along with his mother and three full siblings, the family started living in Reading, Pennsylvania.
However, they later settled in Cleveland, Ohio. Castro had nine siblings in total, three full and six half. He graduated from the Lincoln West High School of Cleveland in 1979.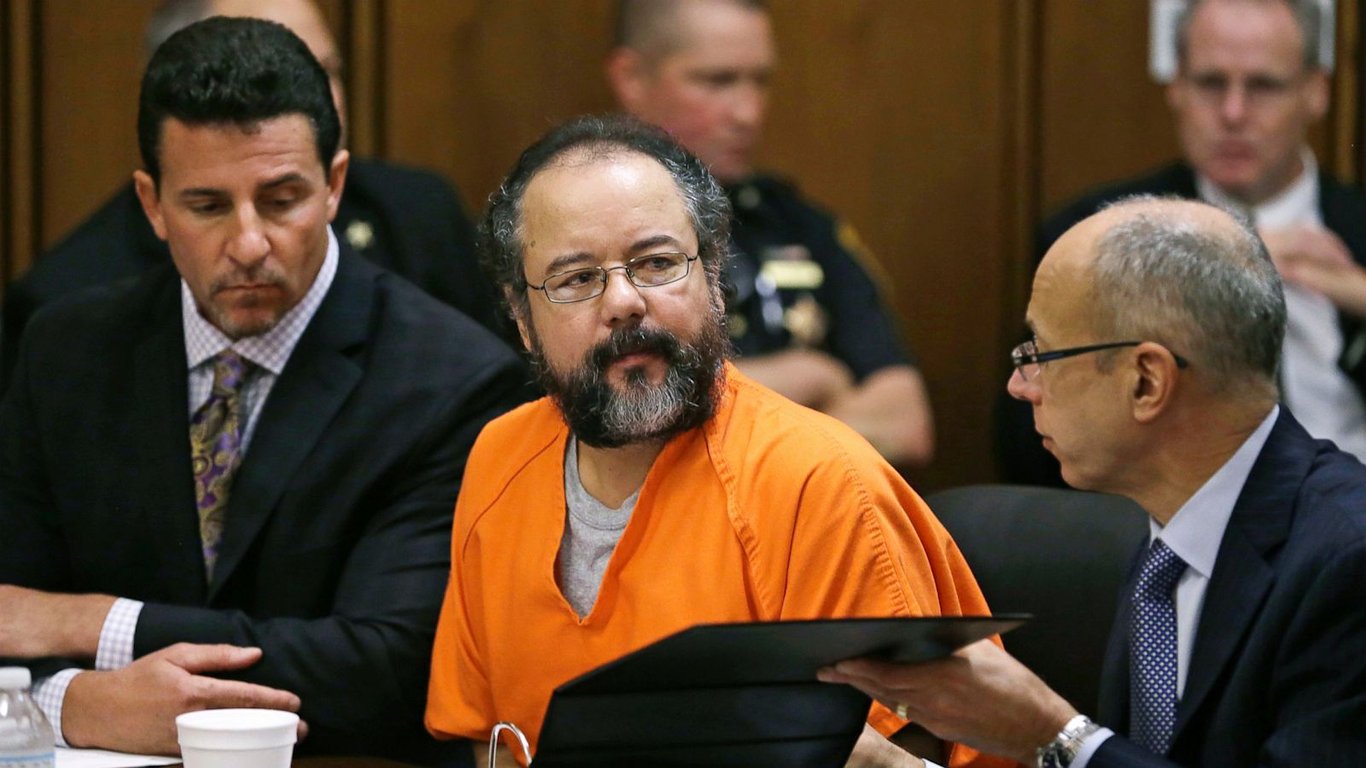 Also, Read:- William Syvin and leslie, Biographical, Age, Life style
Personal Life
He met his girlfriend Grimilda when his family shifted to a nearby street as hers in the 1980s. The couple moved to their own house in 1992. Their home was a two-story establishment of 1,400 square feet with 4 bedrooms. Things started worsening after they moved in together. 
According to her sister, Castor used to beat her and break her nose, arms, and ribs which also caused an inoperable tumor in her brain. He also threw her down the stairs resulting in a crack in her skull.
In 1993, Ariel Castro was arrested on the charges of domestic violence, however, he wasn't indicted by the grand jury. 
In 1996, his girlfriend moved out of their home and secured the custody of her four children while the other hand police detained Castro. 
However, Castro continued to attack and threaten them and so Figueroa, in 2005, filed charges against him for causing her injuries and abducting their daughters. 
In 2012, Figueroa died due to the complications of a tumor in her brain. At the age of 52, Castro was arrested when he was working as a bus driver for Cleveland Metropolitan School. 

Kidnappings
Ariel Castro Kidnappings and restrained them in his home at Seymour Avenue. 
Michelle Knight
Michele disappeared on August 23, 2002, after she left her cousin Inside Ariel Castro's House. On the day of her disappearance, her appearance in court was scheduled for her child's custody. 
After her rescue, authorities believed that she ran away voluntarily in rage after losing her son's custody. After the kidnapping, Castro kept Knight tied on the upper floor of his house for three days without food. Also, it was revealed from her dairy about the forced sexual abuse.
Knight told the police that Castro had impregnated her more than five times and led her to miscarriages every time by beating and hitting her and dumbbells and slamming her against the wall. 
Her grandmother reported that she required facial reconstruction surgery due to beating and also lost hearing capability in one ear. It was reported that Castro forced her to assist in the birth of Berry's child. 
Amanda Berry

On April 21, 2003, Amanda Berry disappeared, she was last seen in the evening around 8 when she told her sister that she is taking a ride from his workplace to home. Until a few weeks after her disappearance, the FBI considered that she has ran away.
However, when a call from an unknown male was received by her mother saying that he has Amanda and she will be back in a few days, the matter was looked into. In December 2006, Berry gave birth to a daughter and the DNA reports confirmed that Ariel Castro is the father of the child. 
Ariel Castro Movies
The "Cleveland Abduction", a 2015 movie, was based on the storyline of Castro and his kidnappings at his Cleaveland residence. The movie shows a single mother (the first victim) who discovers that she has been trapped in his residence for 11 years. Eventually, she became friends with the other two victims.
Gina DeJesus
Georgina 'gina DeJesus disappeared in April 2004 while she was on her way home from school. During that time, Gina DeJesus was friends with Arlene, Castro's daughter. She was the last person to see her. 
DeJesus was thinking that Castro will drop her at home since she trust her because she was friends with her daughter. No one saw her abduction, also no Amber alert was issued. A year later, the FBI issued a composite sketch of the suspected male.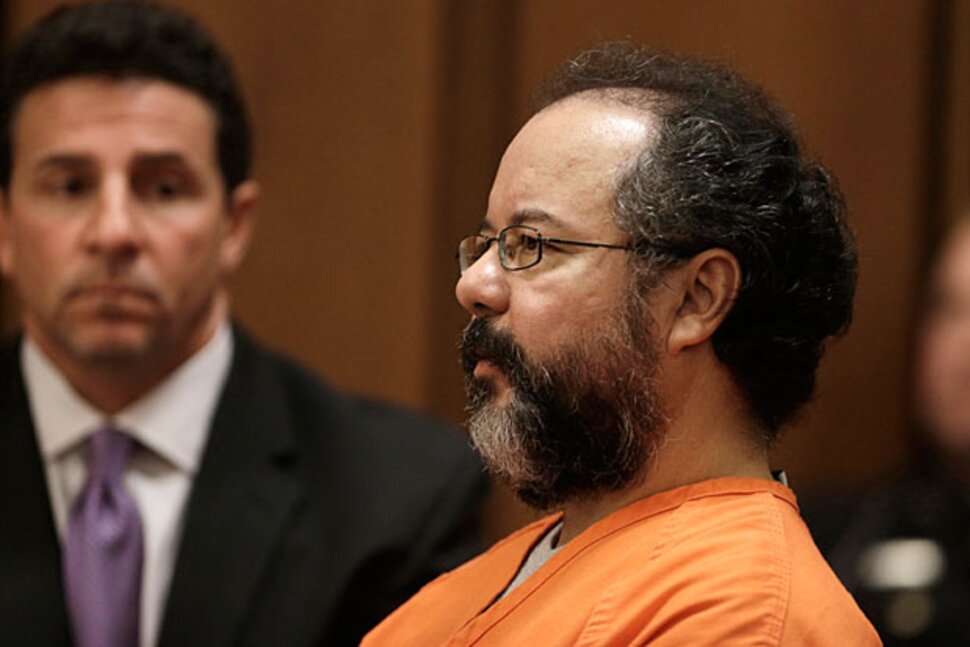 Also, Read:- Charles Manson Death, Net Worth, Children, Height, Age, Movie
Escape and Rescue
In May  2013, Berry escaped from Castor's house after he failed to lock the door and left for somewhere and so escaped with her six-year-old daughter. 
Neighbors Charles and Cordero helped her in escaping from the house, Cordero initially failed to help her since he was not able to speak English. 
After escaping, she went to another neighbor's house and called 911 and said that she has been kidnapped and had been missing for the past ten years and needed help. 
Police officers entered his house and walked upstairs and peeked from the slightly open door. Knight walked through the hallway and said "You saved me". Soon Knight and DeJesus walked out of the house along with the children. All of them were taken to the MetroHealth Medical Center. 
Arrest and Legal Undertakings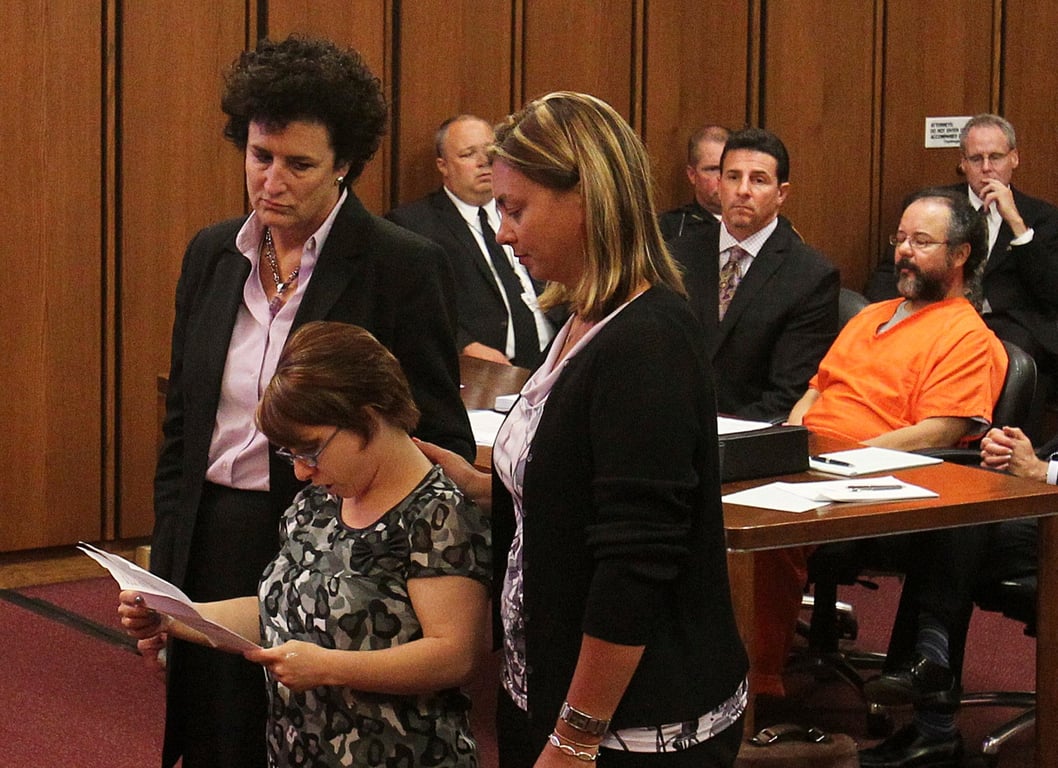 On May 6, 2013, Ariel Castro was arrested and was charged with four counts of kidnapping and three charges of rape. Two brothers of Castro were also arrested but were later released after finding that they had no involvement in the case. 
Afterward, he appeared in court for the first time on May 9. He was charged with kidnapping, attempted murder, and assault. On July 26, he was charged with 977 charges which included kidnapping, rape, and murder. 
During the hearing on August 1, he was sentenced to life in prison along with 1000 years without any parole. He was also fined $100,000. 
Read also: Chris Watts
Aftermath
Berry, DeJesus, and Knight released a visual statement in July 2013 to thank the public for their support. An attorney of DeJesus and Berry stated that the women still have a strong desire for privacy. 
Knight later discussed the happenings in an interview with People Magazine, she also changed her name. Berry and DeJesus got the honorary diploma from John Marshall High School in 2015. DeJesus also volunteered for the Amber Alert Committee.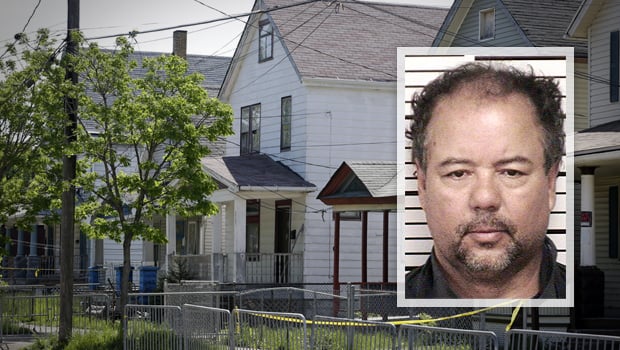 Inside Ariel Castro House
On August 7, 2013, Castor's house was demolished where he held the women. It was also blurred on Google Maps. 
Ariel Castro Death
On September 3, 2013, Castro was found hanging in his detention cell in Orient, Ohio. At the time of his death, he was 53. 
He was taken to the Ohio State University Medical Center due was declared dead. He was later cremated and a report was issued claiming that he died from auto-erotic asphyxiation rather than suicide. 
Netflix
If you have not yet watched the crime thriller, you can check out Netflix. The OTT platform features the 2015 film "Cleveland Abduction".
The film is based on Ariel Castro's abduction of Michelle Knight, Amanda Berry, and Gina DeJesus. These three women were kidnapped in the early 2000s. They were subjected to torture and abuse.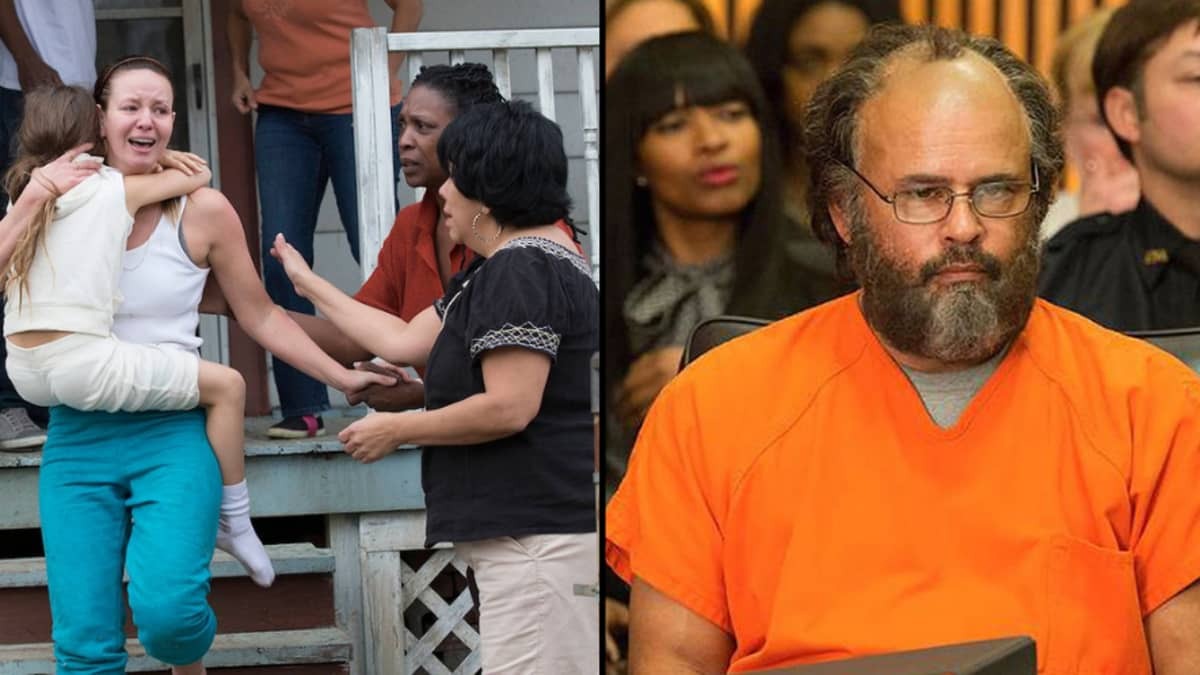 Visual Representation
In 2015, Cleveland Abduction was released which was based on the case of Ariel. Kept Woman released in 2015 was also loosely based on this case. The Cleveland Kidnappings documentary was released on Discovery Plus in 2021. 
Also, Read:- Chris Watts Mistress, House, Documentary, Girlfriend, Murders Case
Conclusion
Ariel Castro is a notorious kidnapper. On May 6, 2013, he was arrested for the abduction and torture of three women. After one month of serving his tenure, he hanged himself with the prison bedsheet. He was declared dead shortly after. All his three victims are settled in their own lives. He was a psychopath with a probable condition of sadism!
Reference Link
Ariel Castro- FAQ's
Is there a movie based on Ariel Castro?
Cleveland Abduction was released in 2015 was based on the case of Ariel Castor. 
Kept Woman released in 2015 was also loosely based on this case.
In 2021, The Cleveland Kidnappings documentary was released on Discovery Plus. 
How many years did Ariel Castro get?
Castro was charged with rape, kidnappings and aggravated murder. So, he was given life imprisonment with 1000 years in prison without any chances of parole. 
How did Ariel Castro die?
Ariel Castro was sentenced to prison without a probability of future parole. Within one month in captivity, he hanged himself to death in the detention cell. While hanging, Castro used his prison bedsheet. As soon as prison staff found out about the incident, they conducted CPR. He was pronounced dead soon after he was taken to the hospital.
What is the name of the movie about Ariel Castro?
The Cleveland Abduction is the movie made on the series of Ariel Castro's kidnapping cases. The movie featured Raymond Cruz as Ariel Castro, Samantha Droke as Amanda Berry, Taryn Manning as Michelle Knight, Katie Sarife as Gina DeJesus, and Pam Grier as Carla.
How are Ariel Castro's victims doing?
The victims of Ariel Castro are now free. They overcame the trauma and moved on to settle their own lives. Knight always dreamed of getting married, and she got married in 2016. She also planned to open a restaurant. In 2015, DeJesus and Berry received honorary diplomas from John Marshall High School.
Where can I watch the Ariel Castro documentary?
The documentary on Ariel Castro is available on Discovery+. The series dates back to the year 2021. The documentary is a non-fictional series of the abduction case. It was made on the basis of a series of interviews with the victims, their families, and the other witnesses.
How long was Ariel Castro in jail before killing himself?
After completing a month in the detention center. At the time of his death, Castro was 53 years old. The prison staff found him hanging, but it was too late to save him! Castro was booked on May 9, 2013, along with his two brothers. They were suspected to be Ariel's accomplices
Who escaped Ariel Castro?
Berry finally hit the jackpot on May 6, 2013. She finally managed to escape with her six-year-old child. With the help of some of the neighbors, she managed to get out of captivity. In addition, she also rescued her two fellow captives, Berry and DeJesus.
Where is Ariel Castro's house?
Ariel Castro's house was demolished on August 7, 2013. It was the place where he held the three women as captives. The aunt of DeJesus started to demolish the residence by swinging the crane. In Google maps, the house is completely blurred. On the eve of demolishing the house, Knight handed yellow balloons to the spectators who were the symbol of the missing children.  
Who is Ariel Castro?
Ariel Castro is a psychopath. He abducted three different women and let them stay captive. Besides, he was also accused of incessant rapes, physical abuse, and murder, as the physical torture led to the multiple miscarriages of the captives. He was finally arrested on May 9, 2013.
Where is Ariel Castro buried?
Castro was cremated shortly after the doctors declared him dead. After an autopsy of his body, Franklin county coroner Jan Corniak declared that the reason for Castro's death was a mere suicide. All the treatments failed to revive his life after he hanged himself.
Did Ariel Castro have a family?
Ariel had two brothers: Onil and Pedro. They were also accused of a series of similar crimes. However, after loads of investigation, cops did not find any proof of their involvement in the incident. Thus, they were eventually released. There is not much information regarding his family.