Gypsy Rose was charged with murdering her mother, Dee Dee Blanchard. The act of matricide came to her mind as she had been subjected to physical abuse since childhood. The body of Dee Dee was found in her residence bathroom by the sheriff's deputies. Claudine, aka Dee Dee, was allegedly fabricating her daughter's illness. The shocking fact was exposed shortly after her murder.
There are several movies based on the life of Gypsy and her mother. Gypsy met her boyfriend, Nicholas Godejohn, over a Christian dating site. As of now, she is 31 years old.
Gypsy Rose– "I feel like I'm freer in prison than living with my mom. Because now, I'm allowed to just live like a normal woman."
Gypsy Rose's Overview
| | |
| --- | --- |
| Birth Name | Gypsy Rose Blanchard |
| Age | 31 |
| Date of Birth | July 27, 1991 |
| Place of Birth | Louisiana |
| Nationality | American  |
| Profession | Convicted Criminal |
| Net Worth | $1-12 million |
| Father | Rod Blanchard |
| Mother | Dee Dee Blanchard |
| Grandparents | Emma Pitre, Claude Pitre |
| Great-grandparents | Antoine Gisclair, Alcida Doucet Gisclair |
| Aunts | Dorla Serigny, Claudia Pitre |
| Boyfriend | Nicholas Godejohn |
| Husband | Ryan Scott Anderson |
| Horoscope | Cancer |
Gypsy Rose Age and Height
As of now, Gypsy Rose Blanchard Now is 31 years old. She has a height of five feet four inches and 55 kg. She has no siblings. Her parents separated. Her father remarried during her childhood.
| | |
| --- | --- |
| Height | 5 feet 4 inches or 1.63 meters |
| Weight | 55 kg |
| Body Measurements | 33-24-34 |
| Eye color | Brown |
| Hair Color | Dark Brown |
| Age | 31 |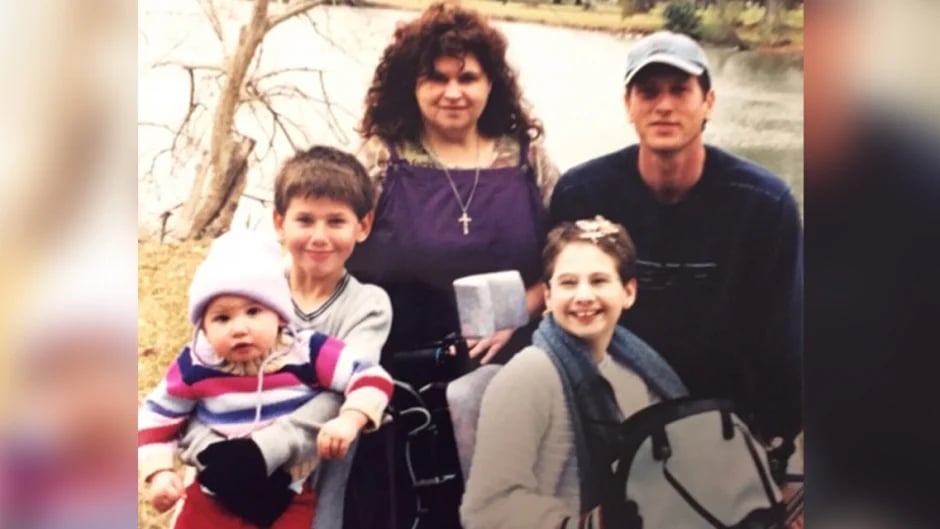 Also, Read:- Scott Peterson Net Worth, Today Photos, Documentary, Age, Movie
Gypsy's Early Life and False Claims made by Dee Dee
Gypsy Rose Blanchard, born in 1991, was victimized by her mother's claim that she is suffering from sleep apnea. When Gypsy was 3 months old, Dee Dee started taking her to the hospital for medication and overnight monitored sleep. However, reports showed no such medical condition in her.
When Gypsy Rose turned eight, her mother claimed that she had leukemia and muscular dystrophy and made her use a wheelchair and feeding tube. After Dee Dee's claims, Gypsy had to go through a litany of medications and multiple surgeries, also her salivary glands were removed.
Her teeth were pulled out after being rotten from the heavy medication and treatment procedures. She used to go to the Special Olympics Events. The child-oriented parade was flagged off in New Orleans during Mardi Gras. She was given the title of the honorary queen of the Krewe of Mid-City in the event in 2001.
Reports continued to contradict Dee Dee's claims, however, she avoided any doctor who questioned her claims. Since she had some training as a nurse so she described the symptoms accurately and therefore many practitioners went along with her claims.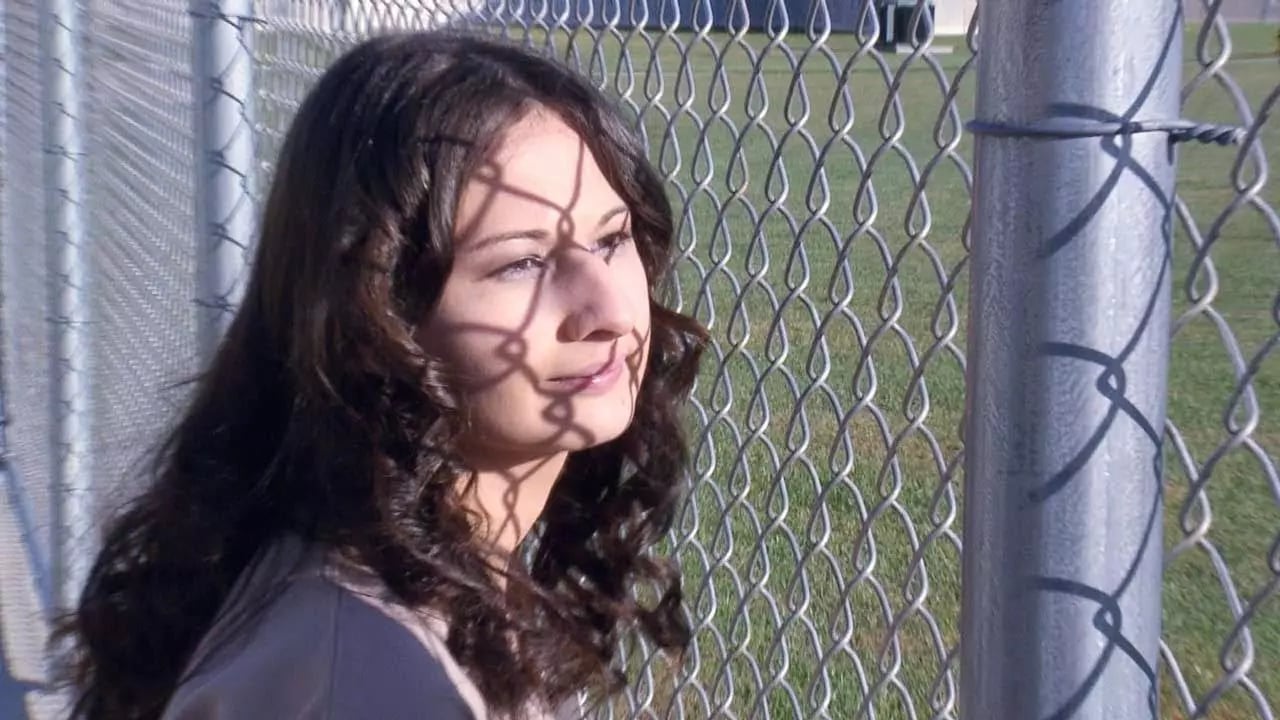 When GYPSY Rose Blanchard Fiance learned to talk, Dee Dee taught her not to disclose any of her information during appointments, she always kept forward her symptoms instead of her. However, when Claudine's relatives started questioning her, she moved away with her daughter.
Another claim made by her in 2005 was that her daughter and she are a victim of Hurricane Katrina and thus they got assistance in relocating to Missouri. After moving to Missouri, they got a new house from Habitat for Humanity and it was equipped with a wheelchair ramp.
Dee Dee's devotion, although fake, got her sponsored visits to Disney World and Concerts. By the time Gypsy turned 14, a neurologist in Missouri believed that her mother is suffering from Munchausen Syndrome by Proxy. However, in later interviews, he revealed that he lacked enough evidence to report her case or act against it.
In 2009, a report stating that Gypsy's medical conditions had no base was made, after which two caseworkers visited them, but Dee Dee was successful in convincing them that nothing is wrong. Dee Dee lied about Gypsy's age as she grew older and altered her birth date on the certificate.

Gypsy Rose's New picture when she had a haircut
Education
Gypsy Rose went to school only till second grade or possibly only till kindergarten. After that, she was homeschooled by her mother. Later, it was believed that homeschooling was her mother's trick of isolating Gypsy. Gypsy Rose somehow learned to read on her own using Harry Potter books.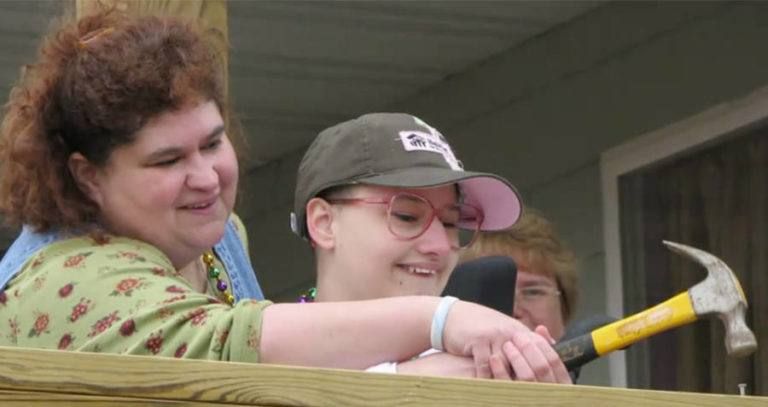 Also, Read:- Alyssa Bustamante Today, Wife, Age, Bio, Netflix Movie, 2022
Gypsy Rose Blanchard Teeth
Gypsy Rose made the headlines in 2015. Her Blanchard's teeth were a sign of her chronic childhood abuse. The story behind Blanchard's teeth was horrifying and shocking. According to her mother, her increased addiction to sugar resulted in tooth rot.
However, the reality was something else! Dee Dee used to abuse Gypsy physically repeatedly. She used to inject Rose with strong medication for epilepsy and leukemia forcefully. These medications were the actual reason behind his teeth rot.
Gypsy became hard to control as she grew older
After growing up, Rose started creating trouble for Dee Dee. In 2011, she tried to run away with a man she knew from a science fiction convention. However, Dee Dee successfully tracked them and convinced the man that she is still a minor, though she was not. Upon returning home, Dee Dee restrained her to bed.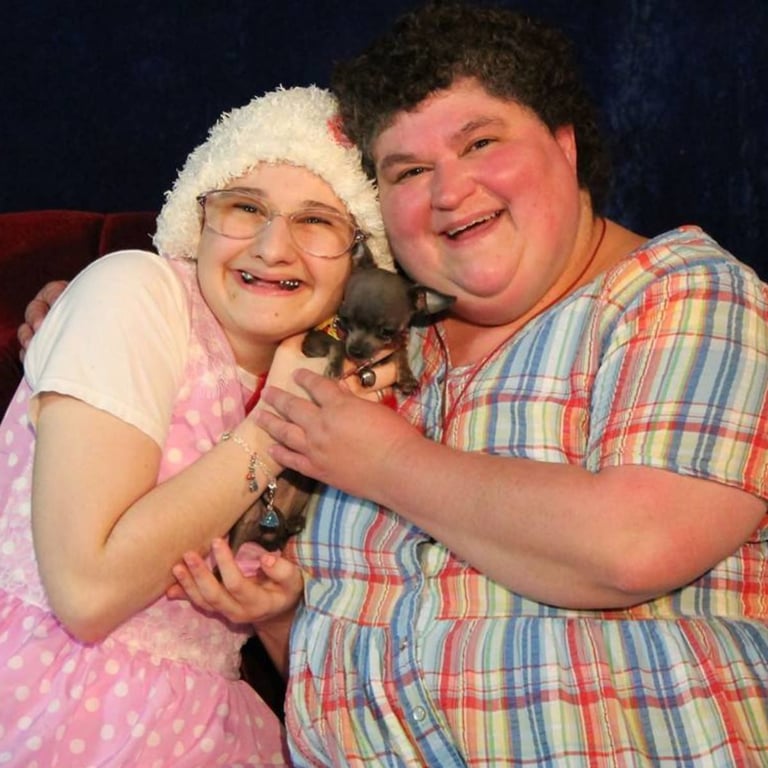 Gypsy Rose and Nicholas Godejohn Plotting Dee Dee's Murder
Gypsy somehow managed to go over the internet and register on a Christian dating site. She met Nicholas Godejohn on the site and told him the truth about her mother and her false claims. Gypsy asked him to kill her mother so that they can be together.
In June 2015, they executed her mother's murder. Nicholas entered Gypsy's house and stabbed her mother 17 times in the back while Gypsy waited in the bathroom with her ears covered.
Gypsy Rose Boyfriend
Gypsy Rose and her boyfriend, Nicholas Godejohn, met on a Christian dating site. During the murder of her mother, Rose was in touch with her boyfriend. Most conversations were related to evil things.
Nicholas was arrested as he was caught masturbating at a McDonald's joint. The cops also recovered a large knife from his pocket. He was the one who executed the murder. Nicholas entered the house and stabbed her mother seventeen times. She was waiting in her bathroom for the act to finish. The duo fled the scene shortly.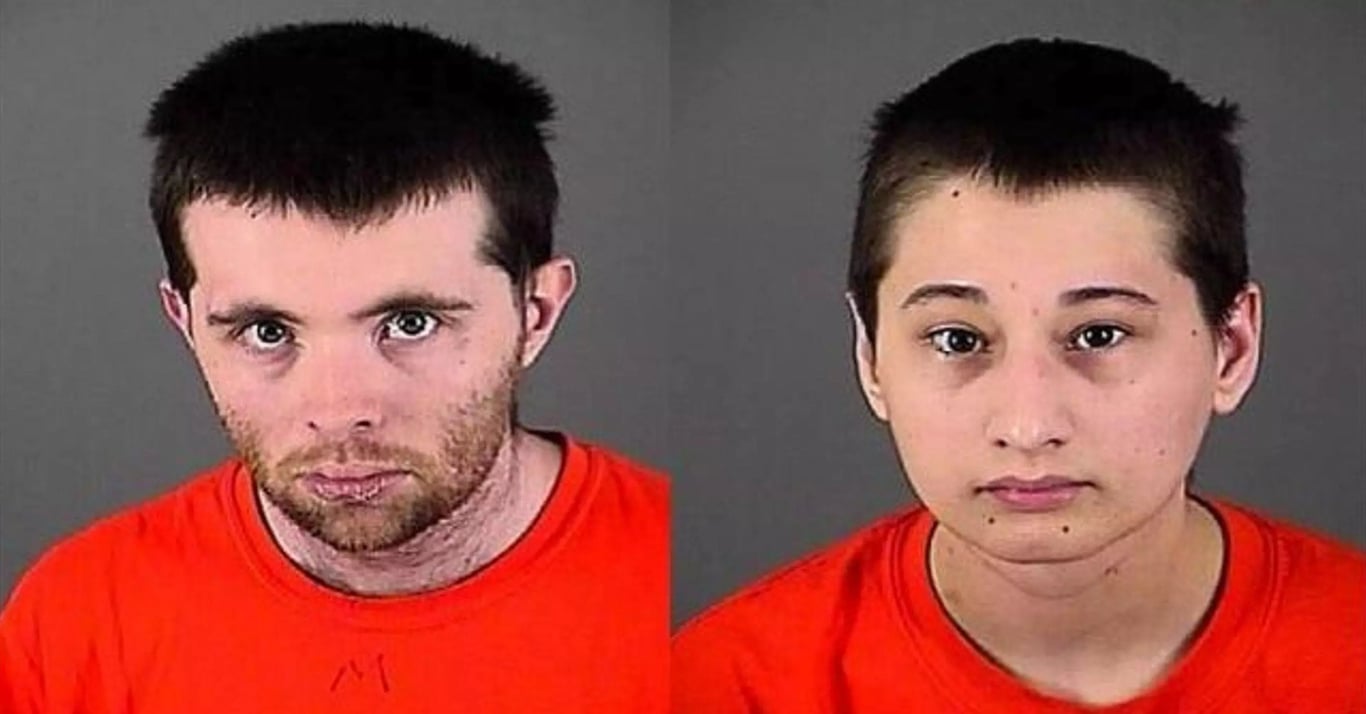 Gypsy Rose Movie
Several movies, including Mommy Dead and Dearest, The Act, and Gypsy's Revenge, were made to stage case the tragic life of Gypsy Rose Show. Eventually, the film also reflects her murderous revenge upon her mother.
Breaking out of the murder news, the investigation following the arrest
As the news of Dee Dee's murder broke out, people wondered why she has murdered Dee Dee when she could simply tell the truth just by standing up from the wheelchair and walking.
To this, she explained, "I couldn't just jump out of the wheelchair because I was afraid and I didn't know what my mother would do. I didn't have anyone to trust".
Upon arriving at the Blanchard house, police had to wait before a search warrant is issued, so they sent one of the neighbors to check into the house. Initially, they believed that Gypsy might be helpless without her wheelchair and medication.
However, Woodmansee, one of the persons who gathered around the house, showed the pictures of Gypsy and her boyfriend. Based on the information obtained from that woman, police started searching for them.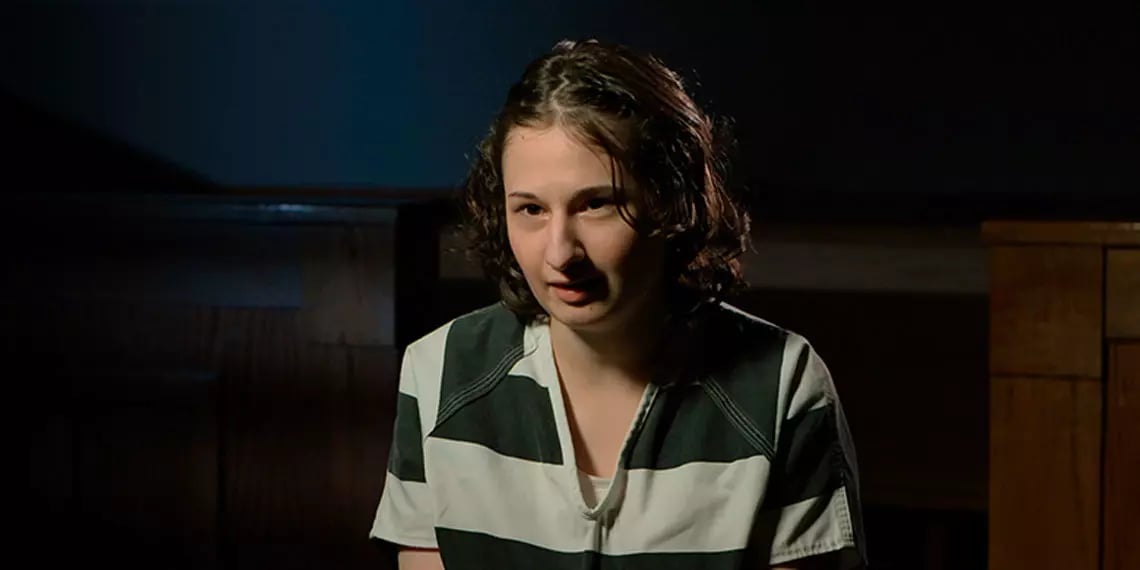 Getting caught by the Police
After murdering Dee Dee, the duo ran with 4000 USD to Godejohn's home in Wisconsin. However, they were traced down by the police through a Facebook post of Gypsy. She posted on Fb stating "That B***h is dead!"
Police raided his house where the couple surrendered and were immediately taken into custody. The news that Gypsy is safe brought a big relief to the people in Springfield. Later in an interview, she revealed that she posted on the platform so that her mother's body can be found.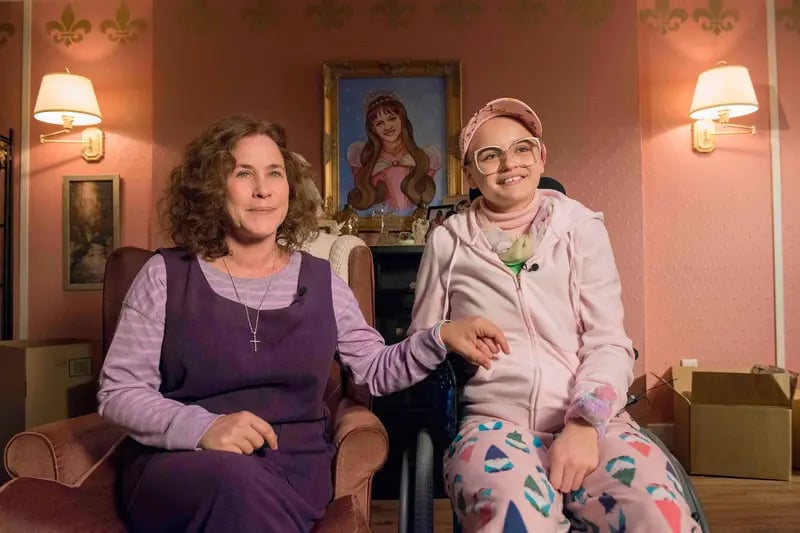 Marriage
Despite serving her sentence of ten years imprisonment, Gypsy Rose is now married. She is married to Louisianan Ryann Scott Anderson. On July 21, 2022, the Livingston County Recorder of Deeds scrutinized their marriage certificate. 
The popular news media Intouchweekly.com confirmed that before marriage Gypsy was involved in multiple affairs as an inmate. In an interview with Kristy Blanchard, her stepdaughter was previously engaged to some other. However, the couple called off the engagement in August 2019.
Gypsy Rose Tattoo
She reportedly does not have any tattoos on her body.
Trails and conviction
The sympathy that Dee Dee had gained for her care now shifted to Gypsy Rose now for being a victim of abuse for so long. The first-degree murder could have landed her and her boyfriend in the death penalty or life without parole.
But the county prosecutor announced that since the case is extraordinary and unusual and therefore he would not seek these trials for them. Gypsy accepted the plea bargain agreement and was given a sentence of 10 years in jail. From 2023, she will be eligible for parole.
Godejohn faced more severe charges since he was the one who actually killed Claudine. However, his trial was postponed in January 2017 since the prosecutor requested another psychiatric test. His lawyer quoted that he is on the autism spectrum and so has a diminished capacity.
His trial was scheduled for November 2018 and after almost two hours of deliberation, the jury found him guilty of first-degree murder. He was sentenced to life in prison for a conviction of murder.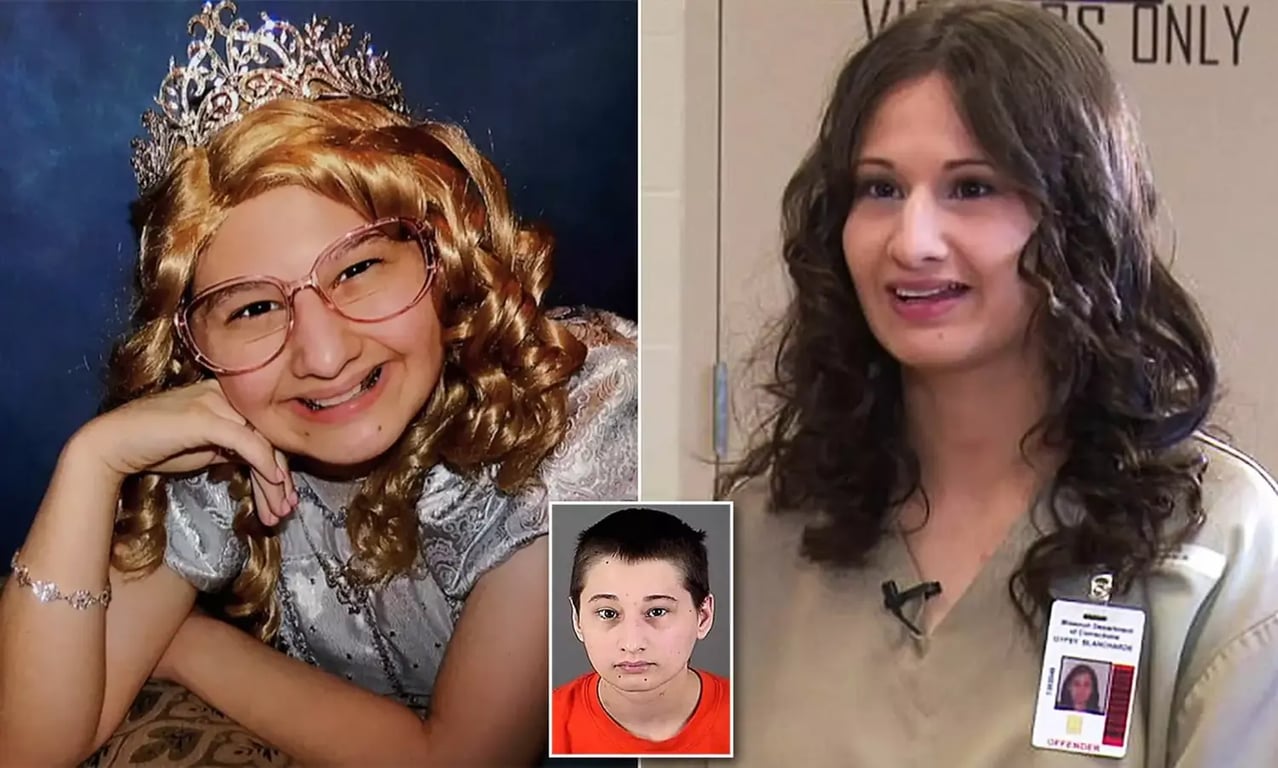 The Reaction of Dee Dee's family upon her murder
Her family did not regret her murder. Some of the family members including her stepmother, father, and nephew stated that she has discovered her fate.
Documentary and TV shows that showed this incident
The documentary movie titled "Mommy Dead and Dearest" was directed by Erin Lee and produced by HBO. It premiered on May 15, 2017.
Phil's talk show on CBS network's episode "Mother Knows Best: A Story of Munchausen By Proxy and Murder" featured the interviews of Gypsy, her father, and her stepmother. ABC's series Good Morning America's segment Mother of All Murders aired the interview of Gypsy Rose from the prison.
Sony's series CID aired the episode titled "Death on Social Media" which was based on Gypsy's case, however, the name was changed to the Indian context. Love You to Death was aired by Lifetime in January 2019. "The Act" by Hulu is also based on the real-life story of Gypsy and Dee Dee.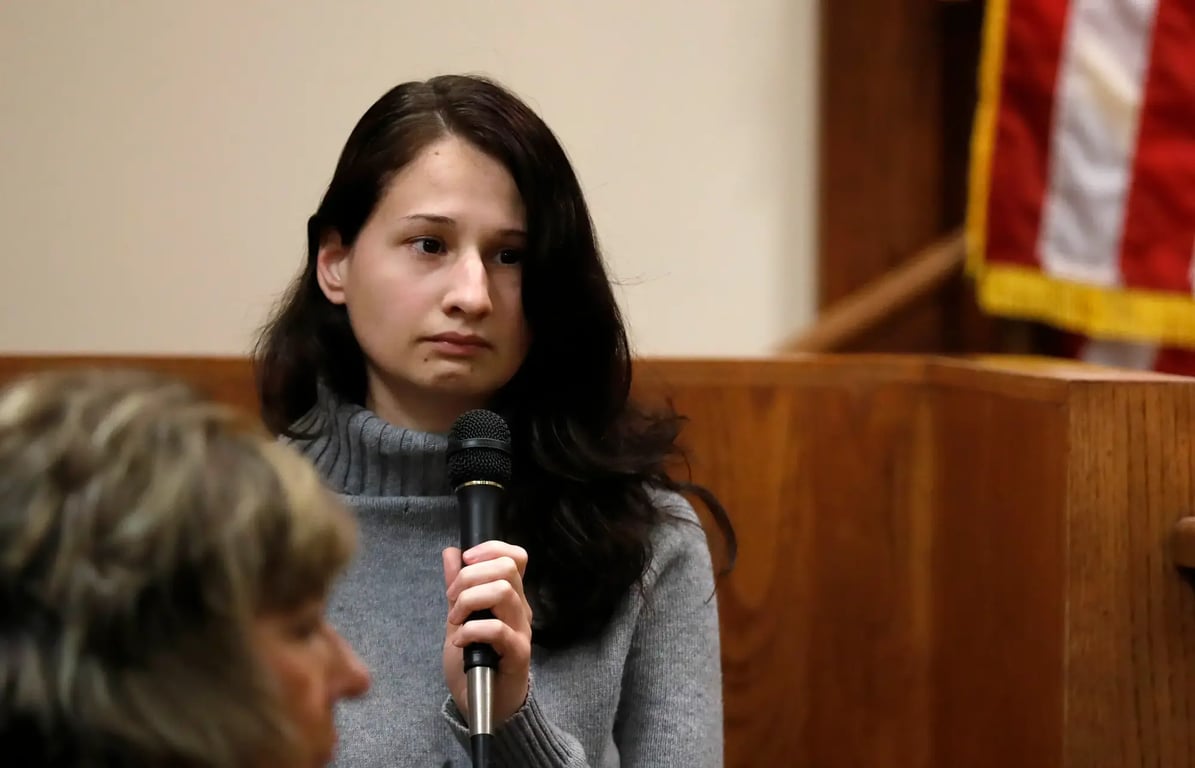 Gypsy Rose Release Date
Gypsy Rose Blanchard's Net Worth
As per some sources, Gypsy Rose Blanchard net worth can lie between 1 to 5 million USD. However, it is not possible to state the exact amount since it is still under review.
| | |
| --- | --- |
| Years | 2022 |
| Net Worth | Estimated Net Worth $1 Million To $12 Million |
| Annual/Monthly Salary | 50000 USD To 200000 USD |
| Source of Income |  Instagram Star Income source |
Also, Read:- Charles Cullen Documentary, Netflix Movie, Nurse, Victims
Conclusion
The tragic life of Gypsy Rose comes to an end shortly. Her boyfriend helped her and executed murdered her mother. As a child, she was abused and treated with harsh medicines. All her medical conditions were fabricated. The reason was Dee Dee's untreated medical condition, Munchausen syndrome, by proxy.
Reference Link
Gypsy Rose- FAQ's
How old is Gypsy Rose?
Born in 1991, Gypsy is currently 31 years old and is now serving her prison sentence in the Chillicothe Correctional Centre, Missouri.
What happened to Gypsy Rose?
Gypsy Rose was convicted of second-degree murder and was sentenced to a 10-year jail term. She murdered her mother after being abused by her for almost 20 years.
Where is Gypsy Rose's House?
Gypsy, along with her mother, used to live in Springfield, Missouri. Habitat for Humanity constructed the house after they lost their Louisiana residence to Hurricane Katrina. The tiny cozy, pink home became a popular tourist spot after the series The Act.
Is Gypsy Rose innocent?
Gypsy, in an interview with Buzzfeed, stated that her mother had always asked her to listen to her words. On the contrary, she said that, unlike her mother, Gypsy always wanted to be honest. Even the filmmaker Erinn Lee Carr after interviewing her concluded that she did not lie but knew the way of impression management.
is gypsy rose blanchard still in jail
Gypsy was arrested for the second-degree murder of her mother. After she pleaded guilty, the court gave her ten years imprisonment. She is now serving her prison sentence.
When is Gypsy Rose's birthday?
Gypsy was born on July 29, 1991. She was born to Dee Dee and Rod. Gypsy was accused of murdering her mother along with her then-boyfriend Nicholas Godejohn.
Does Gypsy Rose die?
Gypsy Rose did not die. She is currently in prison with possible parole in December 2023. First, she was sentenced to jail till 2026. But due to her good behavior, the authority decides to reduce her sentence.
What disease did Gypsy Rose's mom have?
Dee Dee Blanchard, the mother of Gypsy Rose, was suffering from Munchausen syndrome by proxy. A mental disorder where the caregiver or mother always creates serious health issues in their child. They love to portray that their child is sick. This behavior can lead to the death of the victim in some cases.
What did Gypsy Rose's mom do to her?
Dee Dee forcefully used to make her daughter appear sick and chronically ill. She also subjected Gypsy to unnecessary medications and surgeries. In other words, Dee Dee used to expose Rose to physical and psychological abuse like vision and hearing problems.
Where was Gypsy Rose Blanchard born?
Gypsy was born in Golden Meadow, Louisiana, United States. She was born to Rod and Dee Dee Blanchard. However, Ross opted out of the marriage shortly after Gypsy was born.
Who is Gypsy Rose?
Gypsy Rose was convicted for committing matricide. Her mother "Dee Dee Blanchard" subjected her to solid medication for over a couple of decades, she intentionally induced illness in her and later executed it with the help of her boyfriend, To be free from her mother's torture, she first escaped. However, later, she killed her along with her acquaintance.