Jeffrey Dahmer is one of the greatest American serial killers convicted of murdering 17 men between 1978 and 1991. Initially diagnosed with schizotypal personality disorder was found completely sane during his trial. He is also referred to as the Milwaukee monster. There is a psychological drama named My Friend Dahmer based on him. Dahmer was a resident of Milwaukee. After his parents divorced, his father took his custody. He stayed with his grandmother for 9 years. He was beaten to death at 34 in the correctional home.
Overview
| | |
| --- | --- |
| Birth Name | Jeffrey Lionel Dahmer |
| Age | 34 Years |
| Date of Birth | May 21, 1960 |
| Place of Birth | Milwaukee, Wisconsin, US |
| Cause of Death | Homicide by bludgeoning (severe skull and brain trauma) |
| Date of Death | November 28, 1994 (aged 34) Portage, Wisconsin, U.S. |
| Nationality | American  |
| Occupation | Criminal, Soldier |
| Net Worth | $1 million to $5 million |
| Father | Lionel Herbert Dahmer |
| Mother | Joyce Annett |
| Siblings | David Dahmer |
| Victims | 17 |
| Span of crimes | 1978–1991 |
| Date apprehended | July 22, 1991 |
Jeffrey Dahmer Height, and Age
| | |
| --- | --- |
| Height | 6 feet 0 inches |
| Weight | 82 kg |
| Age | 34 years |
| Hair Color | Blonde |
| Eye Color | Blue  |
Jeffrey Dahmer's Parents, and Early Life
Born on May 21, 1960, Jeffrey Dahmer was the elder son of Lionel Herbert Dahmer and Joyce Annette. His father was a chemistry researcher while her mother was a teletype machine instructor. As per the sources, he was often deprived of attention as an infant.
According to the teachers of his elementary school, he was mostly quiet and timid and showed signs of abandonment. In October 1966, Dahmer's family moved to Doylestown, Ohio where his mother gave birth to his brother he was allowed to name him and he named him David.
At four, Jeffrey was fascinated with dead animals. According to his father, he always got thrilled by the sound of the bones and called them "Fiddlesticks". He also used to search for bones around his house to find bones.
The family again shifted to Bath Township in Ohio, a small hut that was just a few minutes walks from the house. Dahmer used to collect insects and skeletons of small animals.
Around two years later, during a chicken dinner, Dahmer asked his father about what would happen if bones are kept in bleach. His father was impressed by his son's scientific curiosity and demonstrated to him the same.
Jeffrey Dahmer, later, incorporated these methods to preserve the bones and animals he collected. One of his friends explained to him that he was curious to know how animals fit together.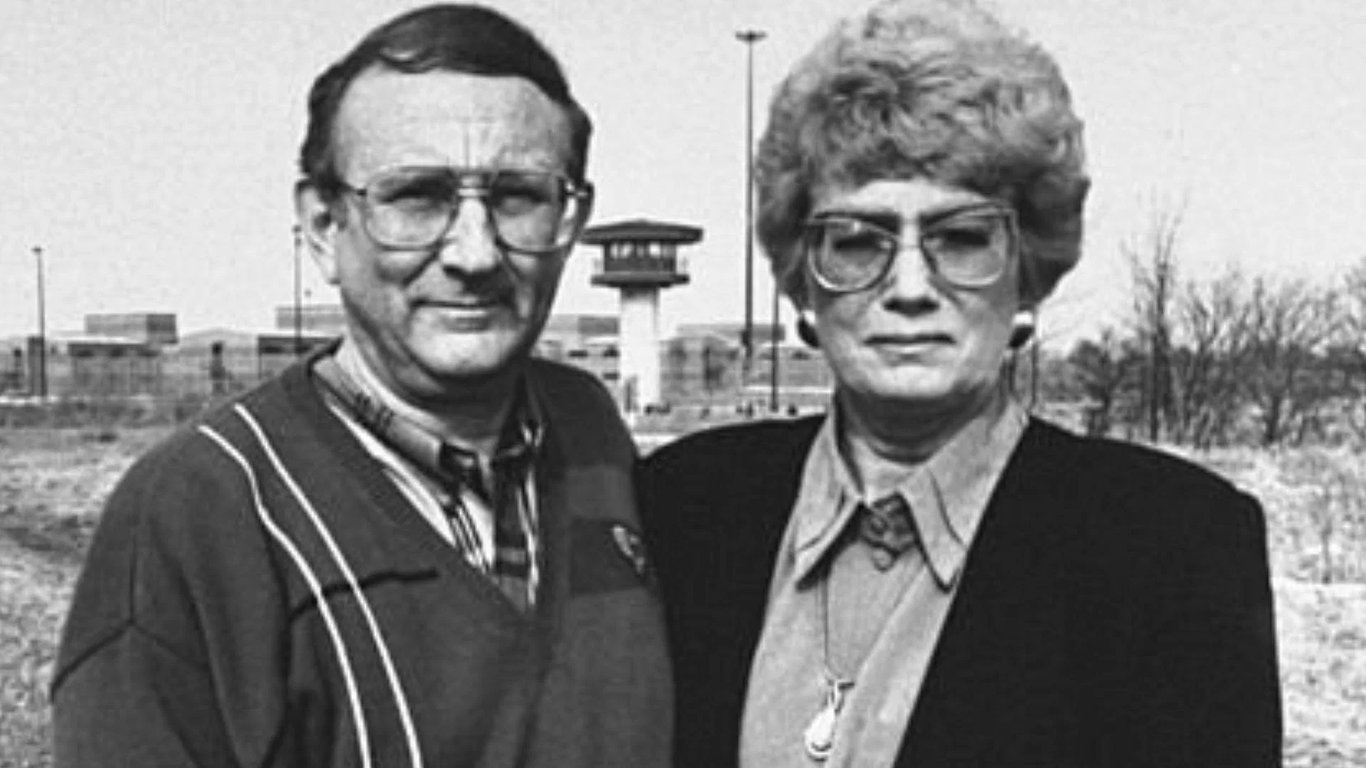 Also, Read:- Ted Bundy Daughter, Wife, Death, Girlfriend, Cars, Last Words, 2002
House
Soon after his parent's divorce, he shifted to his grandmother's house. In this house, 2357 S 57th Street, Milwaukee. Most of the murders he had committed were in the basement of his college. His grandma threw him out after nine years of living altogether.
The second address of Jeffrey Dahmer is Oxford Apartment, 925 North, 25th Street, Milwaukee. He continued with his heinous activities here and also at his childhood place.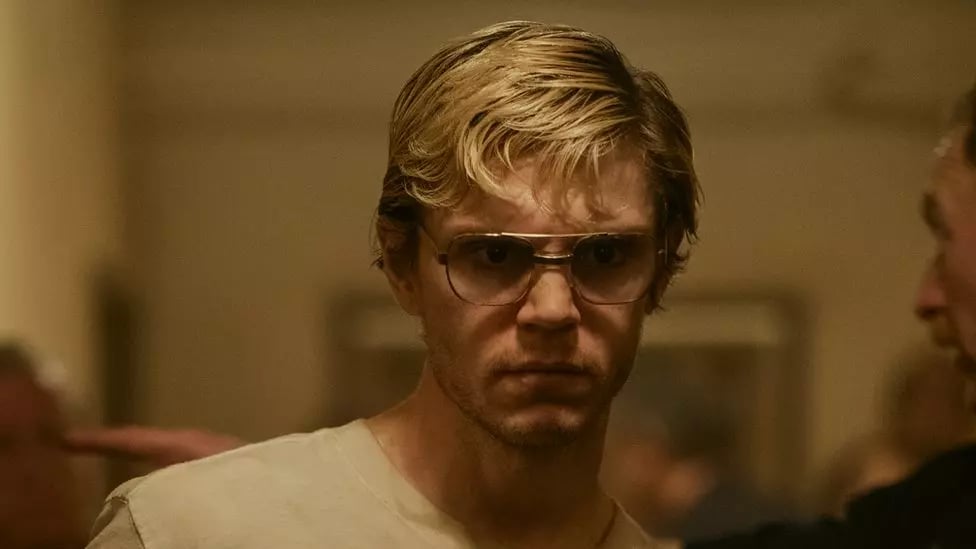 Education
At Revere High School during his freshman year, he was mostly seen as an outcast. He drank hard alcohol during daylight hours. He kept liquor bottles in his school jackets. In his puberty, Dahmer found that he is gay, however, he did not tell his parents.
In his early teens, he was in a relationship with another teenager. He fantasized about dominating a male partner into submission. After his grades declined in 1977, Dahmer's parents hired a private tutor. Next year in May, he graduated from high school.
In the same year, his parent's divorce was finalized, his father started living in a motel while his mother moved to Chippewa Falls, Wisconsin along with his younger brother and he was left alone in the family house.

Jeffrey Dahmer arrested by the police
Jeffrey Dahmer Crime Scene
The crime scene came to the notice of the Milwaukee cops much later. On July 22, at around 11:30, Edward, one of his victims, managed to flee the scene. As soon as the officer reached Jeffrey's house, they discovered evidence such as polaroids of humans and their dismembered body parts.
The Milwaukee Crime Investigation Bureau further discovered seven skulls, a tray with the collected blood drippings, a human torso, two hearts, plastic-wrapped arm muscle, flesh, and a bag full of human organs.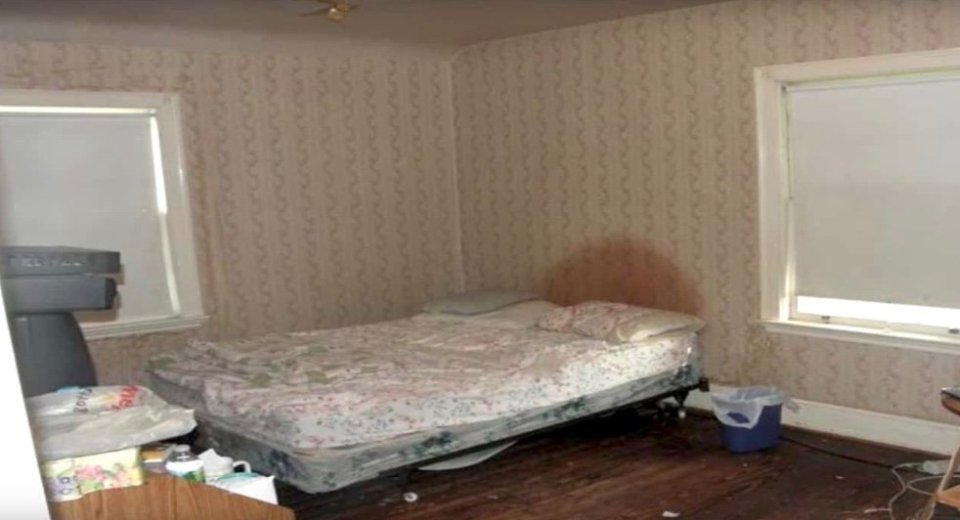 Also, Read:- Chris Watts Mistress, House, Documentary, Girlfriend, Murders Case
Jeffrey Dahmer Polaroids
Jeffrey Dahmer used to keep polaroids of all his victims. The law enforcement department, in a statement, said that they have 80 polaroids of Jeffrey's victims. All the polaroids were related to his victims' dismemberment, nudity, or posing. He noted that the polaroids were the memories of all the killings he had committed!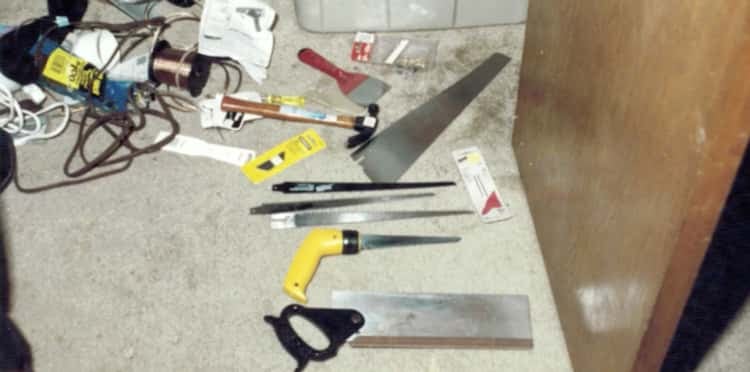 Late Teens and the First Murder
Murder of Steven Hicks
Just after completing his graduation in 1978, Jeffrey Dahmer attempted his first murder. He murder a 19-year-old man named Steven Mark Hicks. He invited him to his house for drinking and Hicks agreed to his offer and accompanied him to his house.
After seeing bare-chested Hicks standing, Dahmer's sexual feelings got stirred, however, he knew his feelings will be rejected. After a few hours of drinking and talking Hicks wanted to leave but Dahmer does not want him to and so Dahmer got him struck from behind using a dumbbell.
After Hicks fell unconscious, Jeffrey Dahmer murdered him using the bar of the dumbbell. Dahmer then stripped clothes from Hicks's body and started masturbating while standing above the body.
On the next day, he dissected his body in the basement of his house and later buried his remains in the house's backyard. After a few weeks, he took out the remains and dissolved the flesh in the acidic solution and fleshed it and crushed the bones, and scattered them in the garden behind his house.
Dropping out of college and starting Army Service
After 6 weeks after murdering Hicks, Jeffrey Dahmer's father and his fiancée came back home where they saw Jeffrey living alone. In August of the same year, Dahmer joined Ohio State University to major in business, however, his first term was completely unproductive, and got poor grades.
He dropped out of the university in just three months even though his father had paid for the second term. In January 1979, he enrolled in the US Army after his father insisted and took the training of a medical specialist at Fort Sam Houston in San Antonio, Texas.
In July 1979, Dahmer was deployed at Baumholder in West Germany as a combat medic of the 2nd Battalion, 68th Armored Regiment, 8th infantry division. Hi, the first year in service was an average one. However, his performance declined due to alcohol abuse, and in March 1981, he was seen as unsuitable for military service and so was discharged from the Army.
In March 1981, for debriefing, he was sent to Fort Jackson in South Carolina and was given a flight ticket to travel in the country. He told the police that he cannot go home since he won't be able to face his father and so he preferred to go to Miami Beach, Florida.
After reaching Florida, he found a job at a shop and rented a motel to live in. However, he was evicted from the motel due to non-payment as he spent most of his income on alcohol but continued to work at the shop until he asked his father to return to Ohio in September.

Jeffrey Dahmer is sitting in the court.
Returning to Ohio and Relocating to Wisconsin
Upon his return to his hometown, he stayed with his father and stepmother, and his heavy drinking continued. Two weeks later, he was arrested for drinking and misconduct and was fined $60 along with 10 days jail sentence.
By the end of 1981, Jeffrey Dahmer's father and stepmother sent him to his grandmother living in West Allis, Wisconsin with the hope that her influence might help him quit drinking and live a better life.
Initially, he lived harmoniously with his grandmother, accompanied her to church prayers, helped her with chores, and followed her rules but he did not quit drinking.
He found a job in early 1982 as a phlebotomist at Milwaukee Blood Plasma Center and continued working for about 10 months. After working at the Blood Center, he remained unemployed for more than two years and survived on his grandmother's money.
In January 1985, he got a job as a mixer at a Chocolate Factory. Soon he was propositioned by a man while he was sitting in a public library. He offered Dahmer to perform fellatio upon him. This stirred fantasies in his mind but he didn't respond.
He also stole a mannequin from a nearby store that he later used for sexual stimulation. When his grandmother saw it, she asked him to discard it.
In late 1985, Dahmer frequently visited bathhouses but during sexual acts, he easily became frustrated since he visualized people as objects of sexual pleasure rather than humans.
In June of 1986, he started giving sleeping pills with alcohol to his partners and after they fall asleep, he performed sexual acts on them. To get the pills, he informed doctors that since he worked at work, he need pills to adjust his body.
After bathhouses witnessed such incidents, they revoked Dahmer's membership but he continued to do the same in the hotel rooms.
In September 1986, he was arrested for lewd and lascivious behavior after masturbating around 12-year-old boys nearby Kinnickinnic River. He was sentenced to one-year probation with counseling and other instructions.
Subsequent Murders Done by Jeffrey Dahmer
In November 1987, Jeffrey Dahmer while residing with his grandmother, came across a 25-year-old man, Steven Tuomi, at a bar and asked him to come to the Ambassador Hotel. In a statement, Jeffrey Dahmer said that he had no intention of killing him and he didn't know what had happened in the night.
To dispose of the body, Dahmer purchased a suitcase so that he can transport the body to the residence. After a week, he severed arms, legs, torso, and head and disposed of the remains of Tuomi except for his head.
He retained his head for almost two weeks but later disposed of it. After the murder, he began seeking more victims, mostly from the gay bar or around it. He used to drug them and kill them after having sexual activities with them.
Two months later, he encountered a 14-year-old American prostitute, James Doxtator, who lured him with an offer of $5- to pose for the nudes. Later after engaging with him sexually, he drugged and strangled him.
He disposed of his remains just as he did of Tuomi's remains. From March to April 1988, he got two more victims, but he left the second victim alive due to her grandmother's suspicion.

Jeffrey Dahmer in the courtroom with police holding his hand while he walking
In September 1988, his grandmother asked him to move out of the house mainly because of his drinking habit and the habit of bringing men to the house late at night. Jeffrey Dahmer then found a one-bedroom apartment at 808 North 24th Street and started living there.
After two days of moving to a new apartment, he was arrested for drugging and sexually fondling a 13-year-old boy. Later, Dahmer's father hired an attorney to defend Dahmer. He had to undergo several psychological evaluations prior to his hearing in court.
Evaluations showed that he had a deep sense of alienation, and another evaluation after two months showed that he is an impulsive individual with suspicion of others. His probation officer presented before the court that Jeffrey Dahmer is suffering from Schizoid Personality Disorder.
In January 1989, Jeffrey Dahmer was found guilty of second-degree sexual assault, however, his sentence was suspended till May. In March, he took 10 days off from work and moved back to his grandmother's house.
Two months after his conviction, Jeffrey Dahmer murdered his next and fifth victim, Anthony Sears, who was an aspiring model. He disposed of his remains except for his head and genitalia since he found them exceptionally attractive.
In May 1989, he was sentenced to five years probation with work release so that he can keep his job, he was also required to register as a sex offender. Two months before his release schedule, he was paroled from the regime and his probation began.
He temporarily resided in his grandmother's house but later moved to Oxford Apartments in Milwaukee, close to his workplace. In May 1990, Jeffrey Dahmer moved to North 25th Street taking Sears' head and genitals with him and within a week he killed his sixth victim, Raymond Smith.
On May 27, he lured another man to his apartment, however, consumed the drug-laded drink himself, and woke up the next day to see that the man had robbed cash, a watch, and several other items from his house, however, he never reported the matter to police.
Again in June 1990, he lured Edward Smith to his apartment and drugged and strangled him. Later, he himself informed the police about his murder. Within just three months of the incident, he came across Ernest Miller and later killed him since he only had two sleeping pills to drug him.
Three weeks later, he encountered David Thomas, drugged him, and later killed him. In a statement, Dahmer said that he did not feel attracted to Thomas but for fear of him being angry he killed him.
After the murder of Thomas, he did not kill anyone for the next five months, however, he had several unsuccessful attempts of luring man.
In February 1991, Jeffrey Dahmer came across Curtis Straughter and lured him to his apartment by offering him money to pose for nude pictures along with incentives for sexual intercourse.
Dahmer drugged him and then strangled him to death. This time he photographed each stage of the dismemberment process.
Within two months, he lured Errol Lindsey to his apartment. He drugged Lindsey, drilled a hole in his head, and poured HCL into the skull. Later, he strangled him to death and disposed of his remains but retained the skull.
In the same year, residents of the Oxford Apartments complained to the building manager about the foul smell coming out of Dahmer's apartment. To this, he replied to the manager that the smell is from the spoiled contents caused by his breaking freezer.
In another instance, he said that the odor is from the tropical fish that died recently and that he will see that no such thing happens again.
In May, Dahmer did the same to Konerak Sinthasomphone. He lured him, drugged him, performed oral sex, and poured Hcl in his head after drilling. Before he fell unconscious, Dahmer took him to his bed and lay naked beside him.
On May 27, Dahmer returned to his apartment and saw Sinthasomphone talking to three women in Lao. The women had informed the police and when the officials arrived, Dahmer told them that Sinthasomphone is his boyfriend and he is too drunk after a fight.
After the officers left, he again injected HCL in Sinthasomphone's head and the next day he died. Jeffrey Dahmer disposed of the body but retained the skull. In June and July, he did the same to Matt Turner, Jeremiah Weinberger, Oliver Lacy, and Joseph Bredehoft.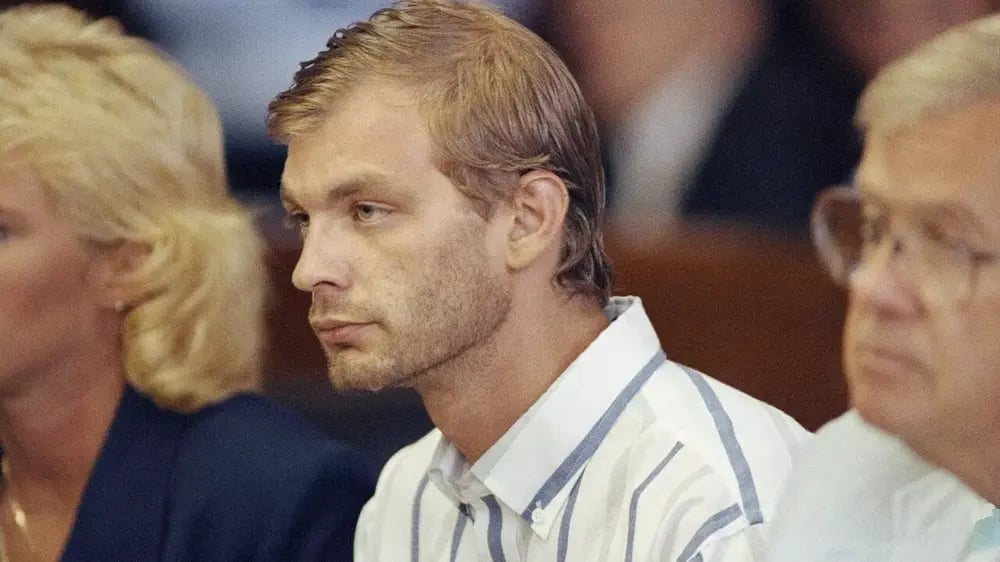 Victims
In July 1991, Jeffrey Dahmer tried to lure three men to his apartment but only one of them agreed to accompany him to his apartment. His name was Tracy Edwards. Tracy noticed a foul smell in Dahmer's apartment and saw large containers of hydrochloric acid on the floor to which Dahmer responded that he used HCL to clean the bricks.
Jeffrey Dahmer wanted to cuff Edward but was unsuccessful. When Edward accompanied him to his bedroom to pose for nudes, he saw nude male posters hanging on the wall and a 57-gallon drum lying in a corner.
In an attempt to be friendly to Dahmer, Edward unbuttoned his shirt and asked him to put the knife away. Dahmer turned his attention to the TV, and Edward saw him moving to and fro.
Jeffrey Dahmer returned his attention to Edward and said that he intends to eat his heart. In an attempt to stop Dahmer, Edward said that he is Dahmer's friend and is not running away.
Edward asked Dahmer to sit in the living room with a beer to which Dahmer agreed. Edward waited to ask for using the bathroom till Dahmer had a lapse of attention. When Edward stood up, he saw that Dahmer was not holding the cuffs and so he punched him in the face and ran out from the front door of the apartment.
Edward flagged the police officers standing at the corner of North 25 Street and told them that a madman had placed the handcuff to see if they can remove it. Edward took the officers to Dahmers' apartment.
When three of them arrived, Jeffrey Dahmer invited them inside and acknowledged that he had placed the cuffs on Edwards' hands but gave no explanation for doing so. Edward also informed them that he had placed a large knife on him in his bedroom.
Dahmer indicated to Officer Muller that the handcuff's key is in the bedside dresser. When Muller entered the room, Dahmer tried to pass him to get the keys while the second officer, Rauth, asked him to back off.
Muller saw a large knife beneath the bed, he also opened the drawer to inspect it and found images of human bodies in different stages of dismemberment. He noticed that the images had been taken in the same apartment and showed them to the other officer.
When Jeffrey Dahmer saw him holding the pictures, he tried to resist arrest, however, the officers overpowered and cuffed him. They also called another squad for backup.
At the same time, Muller opened the refrigerator and saw the freshly severed head of a male on the shelf. While Dahmer was pinned on the floor, he muttered "For what I did I should e dead."
A more thorough search of the apartment was carried out after which four severed heads, seven skulls, two skeletons, a pair of hands, preserved penises, a mummified scalp, blood drippings, two human hearts, portions of arms and legs, torso, and other human organs were found. 74 Polaroid pictures of the dismemberment of victims were also found.
Confession
In July 1991, detectives Patrick Kennedy and Dennis Murphy questioned him one by one about the crimes and evidence found. Dahmer waived his right to have a lawyer during his interrogation sessions and added that he wishes to confess all that he had done.
He admitted murdering 16 young men since 1987 and a victim Steven Hicks, killed in Ohio. Dahmer admitted that he was engaged in necrophilia with the bodies including sexual acts with viscera.
Dahmer confessed how he dismembered the bodies and consumed hearts, livers, biceps, etc. He stated that he was completely swept along with his urge to kill and that it became a never-ending desire to be with someone at any cost.
When asked about the preserved skulls, he said that he was in the process of building an altar of skulls and they were to be kept on both sides of the skeletons.
When questioned about whom the altar was dedicated to he replied, "Me..It was a place where I could feel at home", he further added, " If this had happened six months later, that's what they would have found".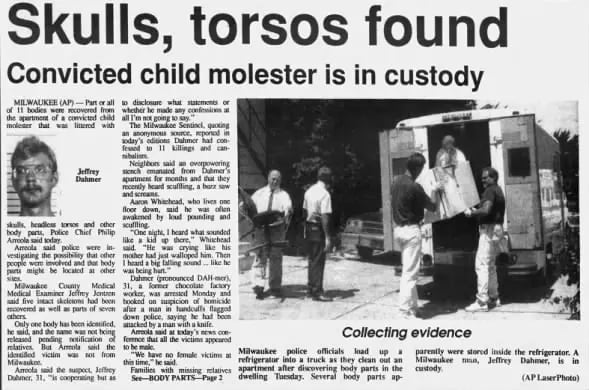 Trial and Conviction of Jeffrey Dahmer
In July 1991, Jeffrey Dahmer was convicted of four first-degree murders, and in August, he was charged with eleven more murders. During the investigation, hundreds of bone pieces were found in the woodland of his family house.
He was not charged with murdering Edward and Tuomi. Dahmer's trial started in January 1992, he was tried for 15 first-degree murders. The issue debated by the counselors was to determine if Dahmer is suffering from any mental or personality disorder.
Two mental health professionals were appointed by the court to independently testify about the issues with Dahmer. Later, after testifying, Palermo concluded that Dahmer had mixed personality disorder along with antisocial, borderline, sadistic, fetishistic, and necrophilic features.
Another mental health professional, Friedman testified that he had a personality disorder but he is not psychotic. The trial continued for about two weeks, the closing argument was by the prosecution that Jeffrey Dahmer is a sane man and is in control of his actions.
On February 17, during formal sentencing, Jeffrey Dahmer's attorney said that his client wished to address the court. Then Dahmer stood on the lectern and started reading the statement prepared himself.
In his statement, Jeffrey Dahmer said that he never wished for freedom after his arrest and he wished for his own death. He stressed that the murders were not motivated by hatred and that nothing could undo the harm he did to the families of the victims.
He added that the medical knowledge he had gave him peace. He closed his address with the statement "I know my time in prison will be terrible, but I deserve whatever I get because of what I have done. Thank you, your honor, and I am prepared for your sentence, which I know will be the maximum. I ask for no consideration."
Dahmer was given 17 life terms in prison.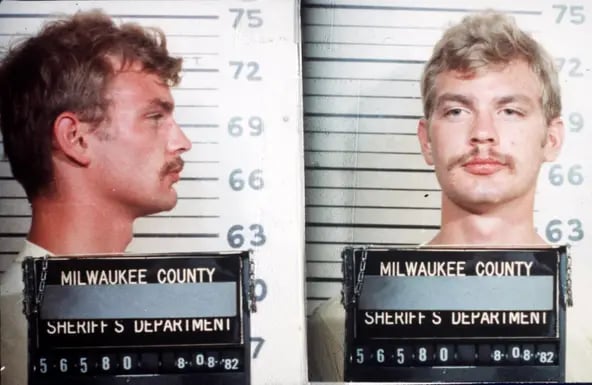 Jeffrey Dahmer's Cause of Death
After sentencing, Jeffrey Dahmer was shifted to the Columbia Correctional Institute. Dahmer requested a bible and he was granted permission after which he devoted himself to Christianity.
In May 1994, Roy Ratcliff, a minister in the Church of Christ, baptized Dahmer, he visited Dahmer weekly and discussed the prospects of Jeffrey Dahmer Death.
In November 1994, Dahmer was accompanying two fellow inmates. They were left unsupervised for about 20 minutes. At around 8:10 am, Dahmer was found lying on the floor with severe injuries on his head and face. He was rushed to the nearby hospital where he was pronounced dead after an hour.
Plays, Documentaries, and Movies depicting the life of Jeffrey Dahmer
The Secret Life: Jeffrey Dahmer, released in 1993, was based on him, Carl Crew portrayed Dahmer. A biographical movie on Dahmer was released in 2002. Raising Jeffrey Dahmer, released in 2006, revolved around Dahmer's life.
In 2012, The Jeffrey Dahmer Files premiered. In 2017, My Friend Dahmer was released. The documentary, The Trial of Jeffrey Dahmer was released in 1992. From November 1993 to May 2020, many TV movies and documentaries were released that revolved around Jeffrey Dahmer.
Movie
A series of movies was released on him since his activities came to light.
| Release Year | Name of the Movie  | Cast |
| --- | --- | --- |
| 1993 | The Secret Life: Jeffrey Dahmer  | Carl Crew  |
| 2002 | Dahmer (Biographical Film) | Jeremy Renner and Bruce Davison |
| 2006 | Raising Jeffery Dahmer | Rusty Sneary and Scott Cordes |
| 2012 | The Jeffrey Dahmer Files (Documentary) |   |
| 2017  | My Friend Dahmer  | Ross Lynch |
Read Also- Milana vayntrub
Jeffrey Dahmer Net Worth
| | |
| --- | --- |
| Years | 2022 |
| Net Worth | Around $2 million  |
Also, Read:- Ariel Castro Kidnappings, Death, Wiki, House, Daughter, Netflix Movies
Conclusion
Jeffrey Dahmer had schizotypal personality disorder and psychotic disorder. He is listed as one of the greatest American serial killers. Though he was a gay man, he would like to kill his male victims. Later, he would perform sexual activities on the corpse. He was beaten to death while serving his tenure in imprisonment.
Reference Link
Jeffrey Dahmer- FAQ's
What was found in Jeffrey's house?
During the thorough search of the apartment four severed heads, seven skulls, two skeletons, a pair of hands, preserved penises, a mummified scalp,  blood drippings, two human hearts, portions of arms and legs, torso, and other human organs were found. 74 polaroid pictures of the dismemberment of victims were also found.
How did Jeffrey Dahmer die?
Jeffrey died in his prison days. One of his fellow inmates bludgeoned him severely. He was suffering from two deep head wounds. He was alive since the prison authority took him to the nearby hospital. One hour later, the hospital authority pronounced him dead. The whole incident happened in the absence of the supervisor.
When did Jeffrey Dahmer die?
On November 28, 1994, when he left for the routine cleaning of the prison's gymnasium, Christopher Scarver attacked him. He is one of Dahmer's fellow inmates! The killing incident happened roughly around 8:10 a.m. But he succumbed to the injuries and died one hour after the incident. 
Where is Jeff Dahmer from?
He was from Milwaukee, Wisconsin. His parents, Lionel and Joyce, were of German and Irish origin. During his stay with his biological parents, he shifted to various places in Ohio. Later after his parents divorced, he used to stay with his grandmother in Milwaukee.
Where did Jeff Dahmer go to school?
During his Freshman year, he was a student at Revere High School. He was treated as an outcast in his school. At the time he was 14, he started to become an alcoholic. He was an intelligent student with not-so-good grades. He developed an interest in tennis.
Where did Jeff Dahmer grow up?
When Jeffrey was a child, he used to stay in Milwaukee, where his father Lionel was studying. After completing his studies, Lionel shifted with his family to Ohio. From freshman years until puberty, Jeffrey was settled in Ohio. He relocated to his childhood location after his parents separated. 
How old was Jeff Dahmer?
Jeffrey was thirty-four years old at the time of his death. During his late twenties and early thirties, he committed almost all of the crimes. He spent four years in prison (1991-1994), where he was killed. He was arrested at thirty when one of his victims fled the murder venue.
How old is Jeff Dahmer?
The Milwaukee monster died at the age of 34. He was alive till 1994. Born on May 14, 1960, Jeffrey would have been in his early sixties if alive. His murder at the correctional home ultimately did not let him serve his prison tenure. He was given an imprisonment of fifteen terms.
How many people did Jeffrey Dahmer eat?
He confessed to eating some of his victims besides 17 murders. There was speculation that he consumed fifteen of his victims. The law enforcement agents discovered a variety of bleached skulls, human torsos, hearts, severed heads, and other parts of the body flesh from his home
Who killed Jeffrey Dahmer?
One of his fellow inmates bludgeoned him severely. He was suffering from two deep head wounds. Christopher Scarver, who was assumed to be schizophrenic, attacked him suddenly with a 20-inch metal bar. Scarver also killed another fellow inmate Jesse Anderson besides Dahmer.
Who was Jeffrey Dahmer?
Jeffrey Dahmer is one of the greatest American serial killers. He is also referred to as the Milwaukee monster. Though he was diagnosed with a psychological disorder, Dahmer was completely sane during his trial. His murders included cannibalism, necrophilia, and preserving human body parts. 
Where is Jeffrey Dahmer from?
Jeffrey was born and raised in Milwaukee. However, his father, Lionel, shifted to Ohio with his entire family. Lionel was an analytical chemist in Ohio. Dahmer moved to Milwaukee at his grandmother's residence after his parents divorced. Until his arrest, he was a resident of Milwaukee.
How many people did Jeffrey Dahmer kill?
Jeffrey Dahmer was serial killers in history, having killed a total of 17 people between 1978 and 1991. His victims were mostly young men from diverse backgrounds, including African-American and Asian males. He would often lure them back to his apartment with promises of money or alcohol before killing them and dismembering their bodies.
What did Jeffrey Dahmer do?
Jeffrey Dahmer was killed a total of 17 people, His victims were mostly young men from diverse backgrounds, Dahmer's gruesome acts included necrophilia, cannibalism, rape and torture; he was eventually convicted on 15 counts of murder in 1992 after being found guilty but insane by an American court.
Did Jeffrey Dahmer eat people ?
Dahmer did indeed consume some of his victims' hearts. He said that he did so because he wanted them to be a part of him. In 1991, during his confession, Dahmer himself acknowledged that he had consumed various pieces. His later killings frequently entailed cannibalism, necrophilia, and the permanent retention of body parts, usually the entire or portion of the skeleton.
How and when did Jeffrey Dahmer get caught?
Jeffrey Dahmer was caught at July 22, 1991, one of his victims was able to escape and call the police to report that he believed he was about to be gravely hurt. In 1978, he received his 16 year life sentence.