Kim Kardashian and Pete Davidson an American media personality, actress, businesswoman, American comedian, and writer, were speculated to be dating after they were spotted together on numerous occasions. Rumors of their affair first surfaced in late 2021, and since then, their relationship has attracted much media interest. Although neither has publicly acknowledged their relationship, they have been seen together on multiple occasions, including attending a concert and a trip.
Kim Kardashian and Pete Davidson Holding Hands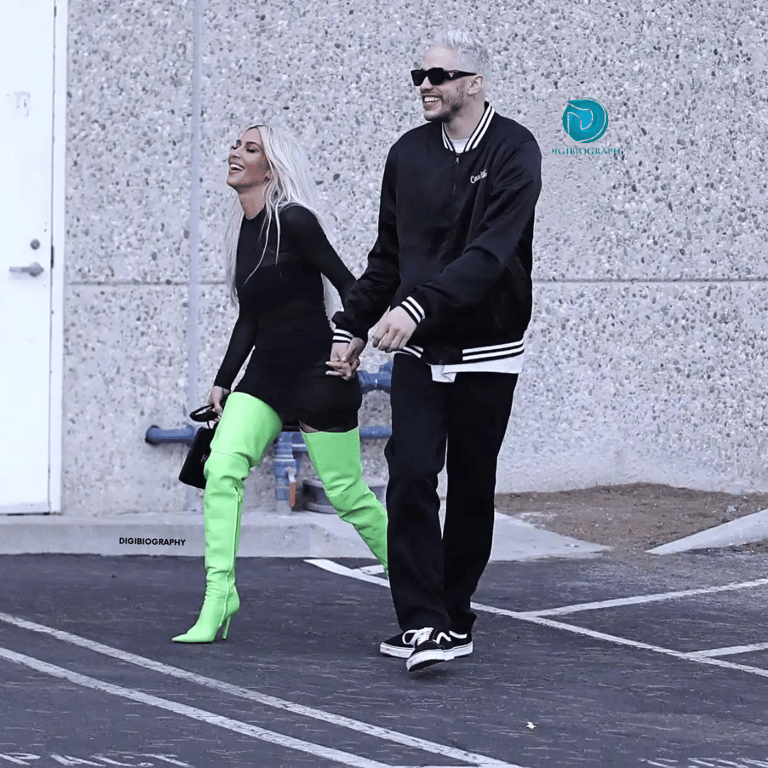 In late 2021, Kim (41 and Pete (28)  instantly became friends when Kardashian was invited to SNL. They soon started dating and making public appearances; they even went to the MET Gala hand-in-hand in May.
In unreleased photographs obtained by Daily Mail, Kim and Pete were seen holding hands on 17 November 2021. The "Saturday Night Live" actor sported the matching bottoms for the PJ set he twinned with Kim during his party while paparazzi in a Palm Springs parking lot tailed the couple. 
The couple, lovingly famous as Kete, has been seen several times holding hands in hand strolling in the streets of London and matching their platinum blonde hair, purchasing a pizza at Jon & Vinny's in Los Angeles, or holding hands on a roller coaster at Knott's Scary Farm in Buena Park, California.
They broke up in August 2022 after dating for nine months; the couple was first caught holding hands in October 2021 before going public with their relationship.
Also, Read: Sophie Turner Net Worth, Height, Age, Daughter, Husband, Met Gala
Kim Kardashian and Pete Davidson Dating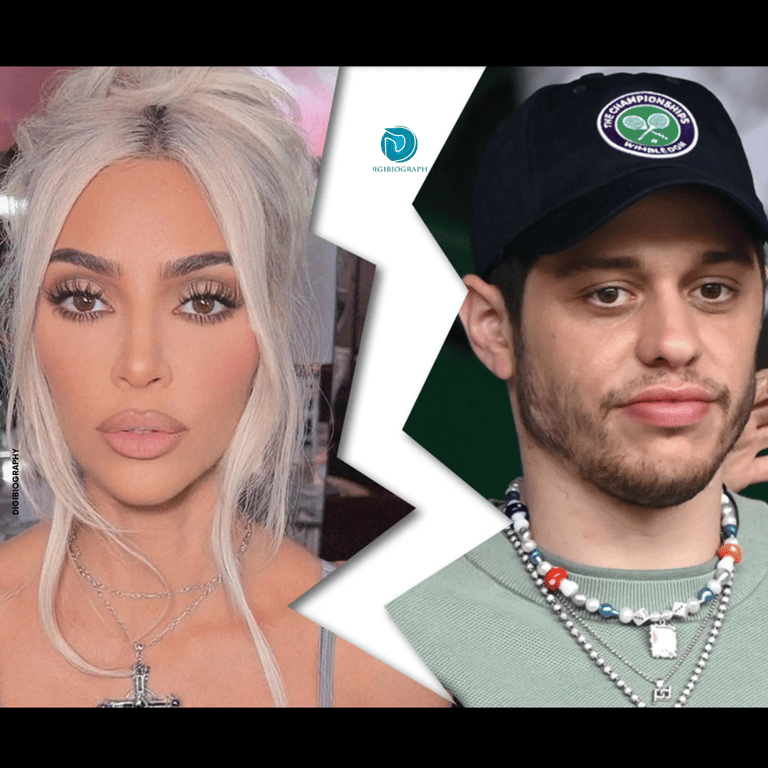 After their on-screen kiss during Pete's appearance on Saturday Night Live in October 2021, rumors of a relationship between the 2 began to circulate.
It gained momentum when Kim and Pete went on wonderful double dates with Kourtney Kardashian and Travis Barker and even walked some central red carpets together (Met Gala!). The relationship between the 2 became quite intense; Pete even got four tattoos (her son's name ) on his body, honoring Kim.
In 2022, one of the most incredible celebrity couples announced it quits. After 9 months of dating, Kim and Pete split up, startling fans. Only days before their breakup, sources said the couple was "smitten" and working long distance as Pete filmed a movie in Australia and Kim Kardashian remained in Los Angeles.
The Kim Kardashian and Pete period appeared to be over. Many are unsure if Kim and Pete are genuinely over because the ex-couple is constantly in touch despite their split.
Kim Kardashian and Pete Davidson's Age Difference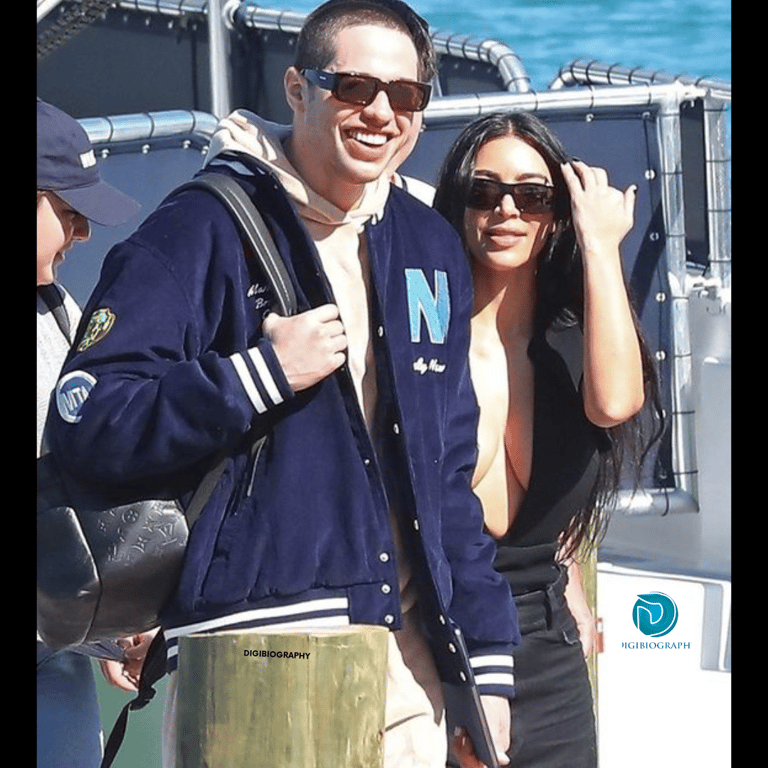 Kim and Pete have a 13-year age gap, as Pete Davidson is 28 and Kardashian is 41 years. With a wink, Kardashian acknowledged their age difference in her interview with E! News. "Whatever nice feelings are, that's what you should go for," she stated when referring to how she judges relationships. It makes no difference whether it is older or younger.
Davidson was the 1st person Kardashian dated after her breakup with Kanye West, and their relationship immediately became steamy and passionate. The steamy love affair between the reality star and the comedian from Saturday "Night Live" has burned out soon, maybe because of their age difference.
Although age is just a number, it was making it difficult for her and Pete to relate to one another. Even though "they had a fantastic time," Davidson qualifies as a rebound guy because Kim is juggling her business empire, raising her kids, and finalizing a divorce from West.
Kim Kardashian and Pete Davidson Attend The White House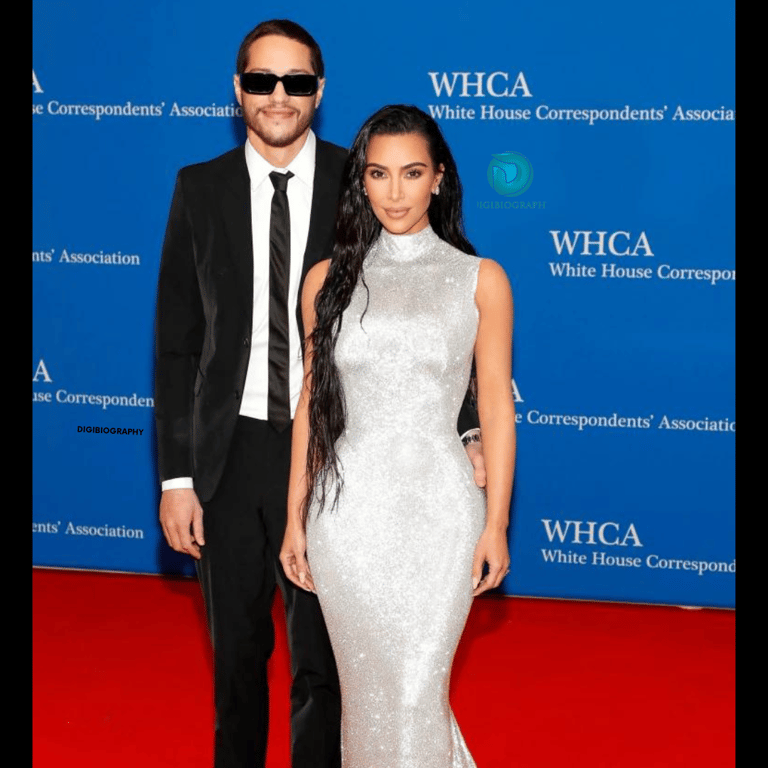 Kim and Pete had quite the evening in Washington, DC, the couple appeared on the carpet rolled out for guests at the annual White House Correspondents' Association dinner for the first time. The actor from "Saturday Night Live" attended the event honoring White House press corps members with the "reality star."
Davidson looked cool in a black suit with matching sunglasses, a slim tie, and Vans, while Kardashian wore a form-fitting, glittering silver Balenciaga Couture gown, filed down the middle aisle of the vast, crowded ballroom, holding hands and surrounded by an overwhelming group of people. They both walked silently to their seats at the table.
President Joe Biden, First Lady, and a lot of famous people, including Jill Biden, Ziwe Fumudoh, Billy Eichner, Judith Light, Sheryl Lee Ralph, Martha Stewart, Brooke Shields, Chris Tucker, Amy Schneider, Fran Drescher, Kyla Pratt, and J, as well as numerous cabinet secretaries and other lawmakers and pundits, were among the other notable attendees of the event, which Trevor Noah hosted.
Also, Read: Lisa Bonet Net Worth, Age, Height, Young, Husband, Children
Kim Kardashian and Pete Davidson Met Gala 2022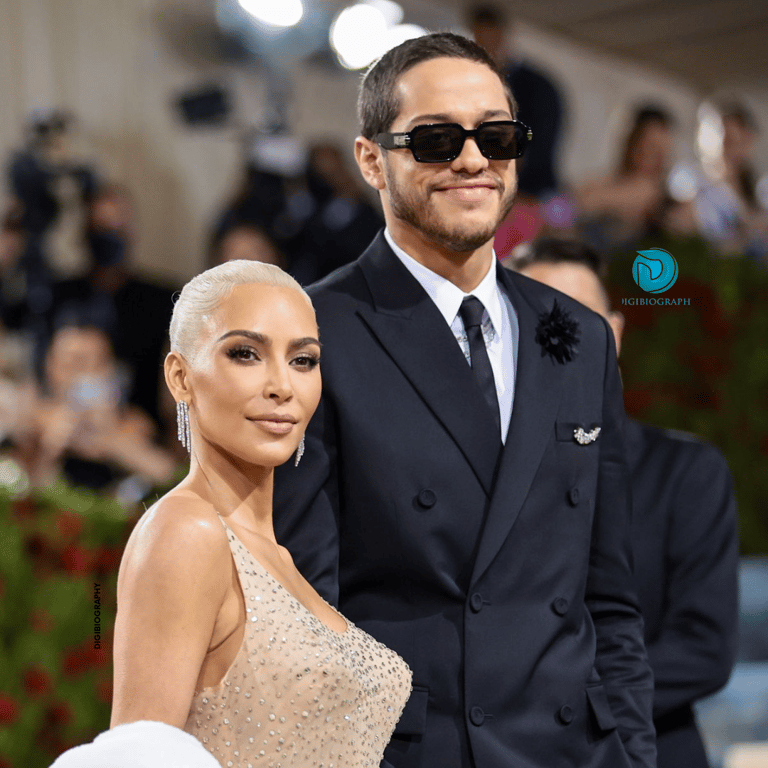 Kim Kardashian and Pete Davidson made their first joint appearance at the Met Gala in the year 2021, closing down on the red carpet in the end.
For the event, Kardashian wore the "Happy Birthday, Mr. President" dress, one of Marilyn Monroe's most famous outfits. She wore a white fur jacket and diamond drop earrings to finish the look. With a black suit, Davidson maintained a classic appearance. The duo walked the carpet hand in hand. 
Kim and Pete have been dating since 2021. Davidson was careful as he guided the SKIMS mogul up the famous steps of the Met. The couple posed for some adorable shots together. As they made their way to the event, Davidson remained close to Kardashian.
The two laughed together at the top of the stairs as Davidson made fun of Kardashian for not letting him wear his propeller hat to the star-studded event. She blew a kiss to the cameras as Davidson kissed his partner. The two appeared to be getting ready for a fashion prom in front of the wall of roses.
Kim Kardashian and Pete Davidson Engaged
Pete Davidson popped the question to Kim Kardashian just prior to their relationship ending, according to "Radar Online." Simply put, everything was moving too quickly for Kim. Kim rejected the proposal according to the source informed the magazine. "He is in shock. Everyone warned him that he would push her away, but the source said that he didn't pay attention.
It's been reported that Pete and Kim are still in touch and that Kim still wants to be married again. When they made the decision to separate, there was in fact no turmoil between them, another source reportedly told US magazine. It wasn't a shock breakup; it was something they discussed. 
The dating was challenging because of their apartness and their hectic schedules. Pete struggled to keep up with Kim's many trips, especially given his filmmaking commitments. They had a lot of fun together, and they can look back with happy memories, the source continued.
Kim Kardashian and Pete Davidson Career
Kim Kardashian
Over the past decade, Kim has become one of the world's most famous and successful celebrities. She is a born media mogul and CEO of a thriving conglomerate. Currently, Kim's Kingdom consists of a clothing line, perfume, weight reduction goods, personal appearance fees, television salary, cosmetics line, retail sponsorships, and individual appearance fees.
As a result of her fame, Kim was able to get E! to air "Keeping Up with the Kardashians." Her fame has increased dramatically since that time. She has appeared on numerous reality spinoffs, thousands of magazine covers, and films.
Pete Davidson
Pete Davidson gave his 1st stand-up comedy performance at a Staten Island bowling alley when he was just 16 years old. His 1st on-screen role was in the MTV comedy series Philosophy. After that, he appeared on various reality shows before having his 1st stand-up performance broadcast on television on Gotham Comedy Live, a Comedy Central program featuring upcoming comics.
He then performed stand-up again and spent a short time on "Brooklyn Nine-Nine" before becoming a cast member of "Saturday Night Live." Through his relationship with Bill Hader, whom he met while filming a small role in 2015's "Trainwreck," he had been allowed to audition.
Also, Read: Charlize Theron Net Worth, Age, Height, Kids, Husband, Young
Conclusion
Pete Davidson and Kim Kardashian both are very popular celebrities. They both have a history of prominent connections with other people. Although there have been rumors and conjectures about Pete Davidson and Kim Kardashian having a romantic relationship, there was no verified information regarding them being a pair or engaged.
Reference Link
Kim Kardashian and Pete Davidson – FAQ's
How did Pete Davidson and Kim Kardashian meet?
Kim and Pete met on January 30, 2019; Kanye West (Kim's ex-husband) is actually to credit Kim's 1st recorded meeting with Pete. To celebrate Kid Cudi's birthday, the (then-married) pair went to dine with the comedian Pete and Timothée Chalamet. 
How long have Pete Davidson and Kim Kardashian been dating?
Kim and Pete dated for nine months. They ended their relationship early in 2022, shocking their fans and followers. In August 2022, an insider told US Weekly that "they amicably broke up." After nine months of dating, the two decided to end their relationship.