Vin Diesel is an American actor and producer. The star has a Net Worth of $229 million. He is currently 55 years and stands at 5 feet 11 inches. Diesel is best known for his roles in action films, particularly the "Fast and Furious" franchise, where he plays the character of Dominic Toretto. He gained recognition for his performance in the film "Saving Private Ryan". He went on to star in various action films, including "Pitch Black", "XXX", "The Chronicles of Riddick", and "Babylon A.D.".   Apart from acting, Diesel has also produced and directed several films. 
Overview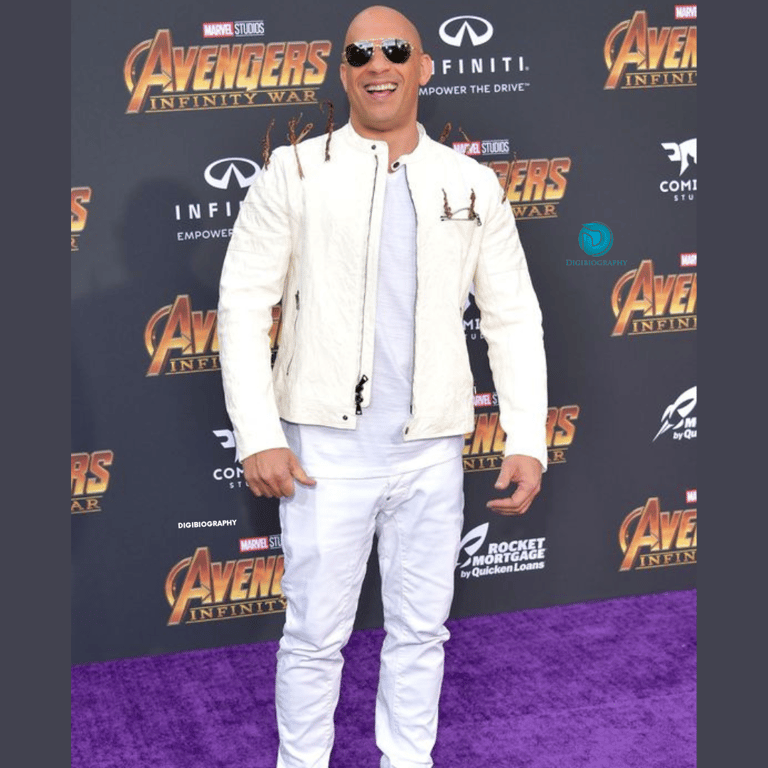 Full Name
Mark Sinclair 
Nick Name
Diesel, Bouncer, Dom
Date of Birth
July 18, 1967
Age 
55 years
Net Worth
$ 229 million
Spouse
Paloma Jiménez
No. of Children 
3
Profession
Actor, Producer, Director, Screenwriter
Birth Place
Alameda County, California, United States
Zodiac sign
Cancer
Nationality
American
College
Hunter College
Educational Qualifications
College drop-out
Debut
Acting – Awakening (1990)
Direction, Writing, Production – Multi-Facial (1994)
Father
Irving H. Vincent (Step-father, acting instructor and theater manager)
Mother
Delora Sherleen 'Sinclair' Vincent (An astrologer)
Kids

Hania Riley (born April 2008)
Vincent Sinclair (born in 2010)
Pauline (Named after Paul Walker

Religion
Roman Catholic
Ethnicity
Ambiguous (English, German, and Scottish)
Girlfriends

Layla Roberts
Elisa Jordana
Paloma Jimenes
Vin Diesel Age, and Height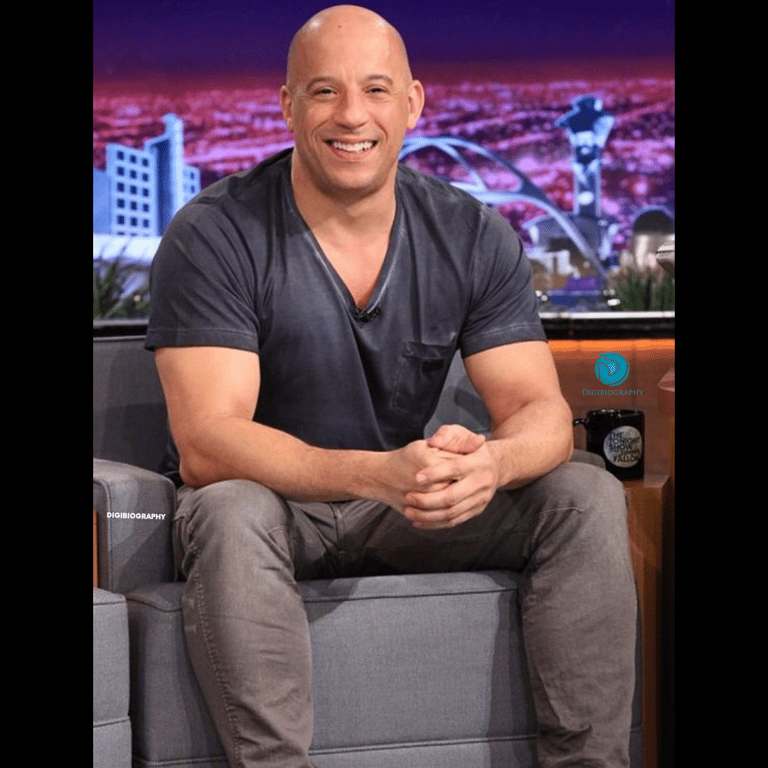 Height
5 feet 11 inches
Weight
224 lbs (102 kg)
Age
55 years
Body Measurements

Chest: 52 Inches
Waist: 34 Inches
Biceps: 18 Inches

Eye color
Dark Brown
Vin is 5 feet 11 inches tall. Born in July 1967, he is in his mid-50s now. He is a gym freak and weighs 224 lbs (102 kg). He has wide biceps of 46 cm. His chest and waist measure 132 and 87 cm respectively. His shoe size is 11 US. Diesel is famous for flaunting his bald look.    
Early Life and Education
Vin Diesel, also known as Mark Sinclair, was born on July 18, 1967, in Alameda County, California. He was raised in the city of New York. 

His mother, Delora Sherleen Sinclair, was an astrologer and a psychiatrist, and his father, Irving H. Vincent was a theater manager and acting instructor.

Diesel began his acting career at a young age and was involved in various theatrical productions during his teenage years. He attended Hunter College in New York City but dropped out after three years to pursue his acting career full-time.

While pursuing acting, Diesel worked as a bouncer at various clubs in New York City and also wrote, directed, produced, and starred in his own short films.
Career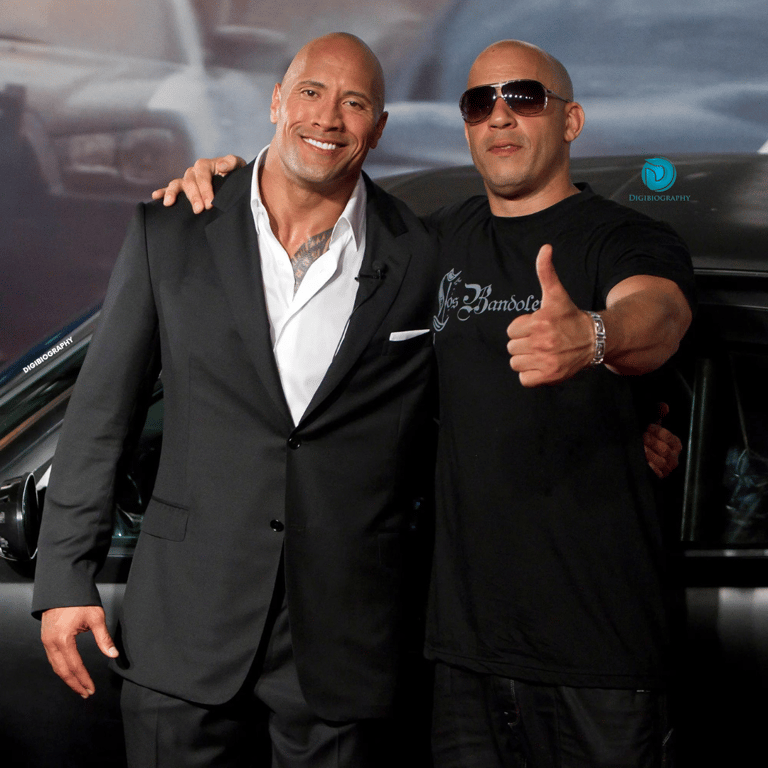 Diesel began his acting career in 1990 with a brief role in the film "Awakenings." He gained mainstream success in 2001 with the action film "The Fast and the Furious," as Dominic Toretto. Diesel has since reprised the role in several sequels, including "Fast Five," "Fast & Furious 6," "Furious 7," "The Fate of the Furious," and "F9."

In addition to the "Fast and Furious" franchise, Diesel has appeared in several other successful films, including "XXX," "The Chronicles of Riddick," "Pitch Black," "The Pacifier," and "Guardians of the Galaxy."

He is also known for his work as a producer, having produced several films in addition to the "Fast and Furious" franchise, including "The Last Witch Hunter," "xXx: Return of Xander Cage," and "Bloodshot."

In 2018, the "Fast & Furious" star reprised his role as Dominic Toretto in the action film "The Fate of the Furious," which became a blockbuster. He produced and starred in his 2019 movie "Bloodshot" which was again a global hit. Vin was the voice behind Groot in "Avengers: Endgame".
The star returned as Dominic Toretto in "F9," the 9th sequel of the "Fast and Furious" franchise in 2021. In addition, he also executive produced and starred in the action-comedy film "Muscle". 

He also walked in the shoes of a screenwriter and a director in "Multi Facial" and "Strays". Moreover, Diesel lent his voice to many video games. 
Vin Diesel Parents
Vin does not have any details about his biological father. He spent his childhood with his stepfather of African origin and his biological white mother. Mark claims to have a mixed ethnicity with a distant connection to many cultures. His mother and adoptive father hailed from different professions astrologer-cum-psychiatrist and instructor-cum-theater manager respectively.  
Vin Diesel Brother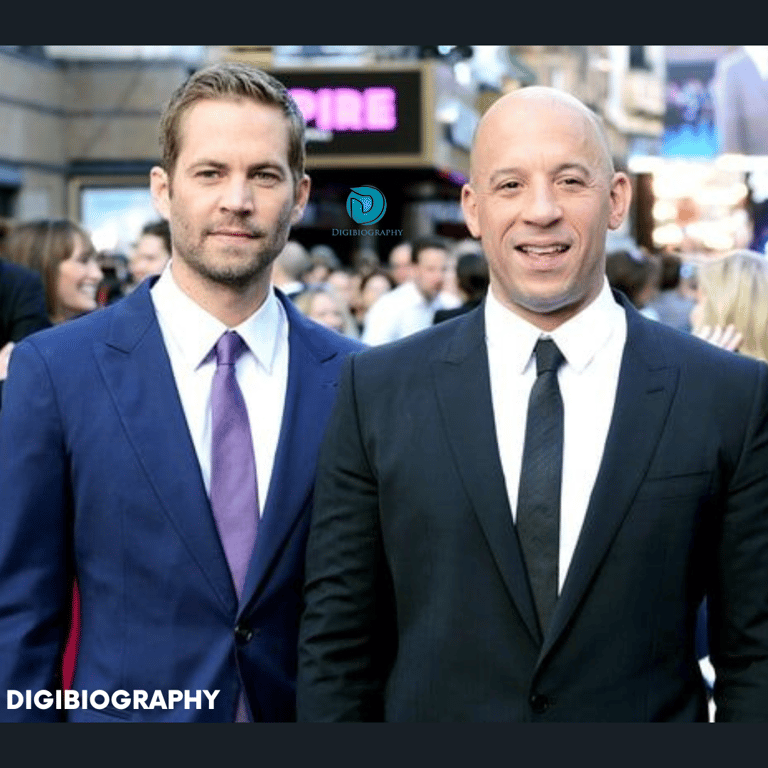 He has 2 siblings: Paul, the younger brother, and Timmy, the younger sister. Paul is his fraternal twin. Unlike his brother, he has nothing similar to Vin in terms of looks or profession. Both the brothers were raised by their mother and an American-African father. 
Paul flaunts a slim physique with a hairy scalp and voluminous beard. He also lives a private life and works as a producer and editor. On the contrary, his brother, Vin, has a muscular body with a bald head and leads a glamorous life surrounded by paparazzi. He also worked as a sound editor for the 1995 Vin movie "Multi Facial". 
Apart from his fraternal twin, he has 2 half-siblings: Samantha Vincent, a younger maternal half-sister, and Tim Vincent, a younger maternal half-brother. Samantha works as a producer and has produced many of her brother's movies including some of the "Fast & Furious" series.  
Vin Diesel Wife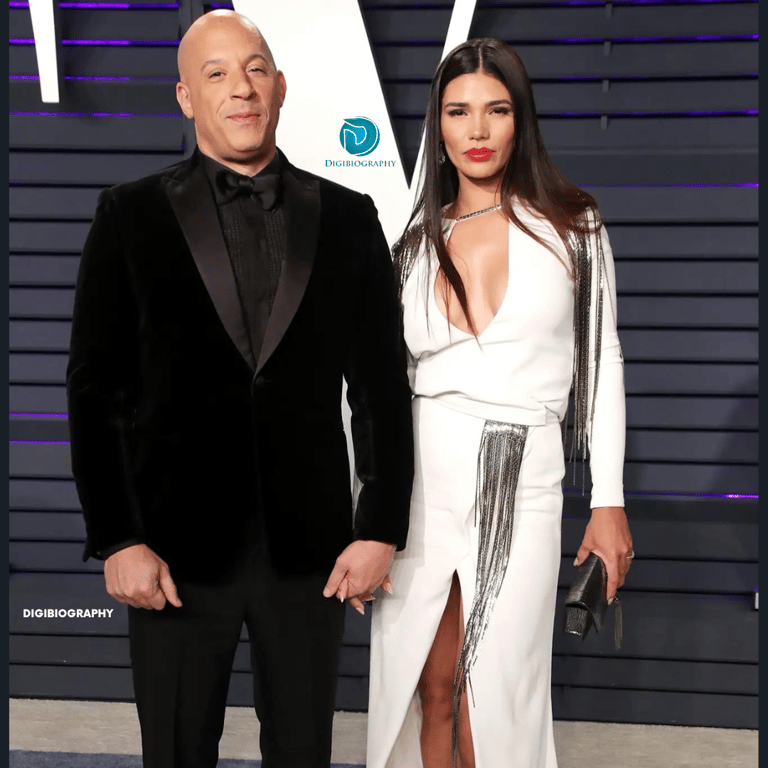 Vin Diesel and Paloma Jiménez have kept their dating history relatively private, so not much is publicly known about the early days of their relationship. However, it is believed that they began dating around 2007, which is the same year that they were first spotted together in public. Since then, they have been seen together at various events and red carpets, and have also been known to share photos of each other on social media. 
The duo got married in a private ceremony in 2013. The couple has 3 children together: a daughter named Hania Riley, and 2 sons named Vincent Sinclair and Pauline. Despite being quite private about their personal lives, they are known to be very devoted to each other and their family.
Vin Diesel Kids
He has three children with his wife Paloma. Their first child, a daughter named Hania Riley, was born in April 2008. Their second child, a son named Vincent Sinclair, was born in 2010. Their third child, another daughter named Pauline, was born in March 2015. Vin Diesel is known to be very protective of his children and has shared many photos and videos of them on his social media accounts.
Vin Diesel Net Worth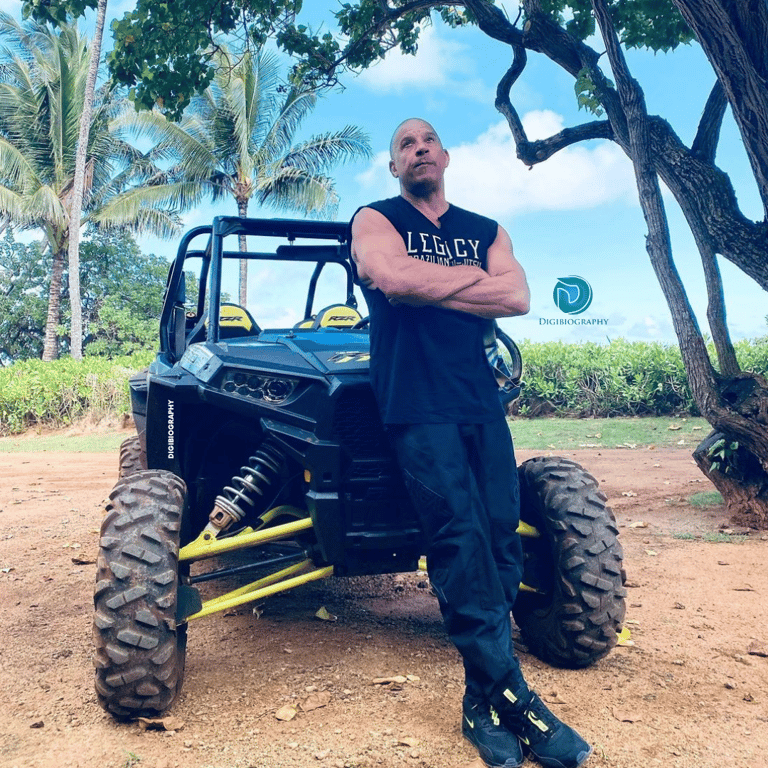 | | |
| --- | --- |
| Years | Net Worth |
| 2023 | $229 million |
| 2022 | $207 million |
| 2021 | $191 million |
Vin Diesel Net Worth is $229 million. The majority of his wealth comes from his successful acting career, producing credits, and various endorsement deals. Diesel has earned substantial amounts of money from the "Fast and Furious" franchise, which has grossed billions of dollars worldwide. 

He also has a production company called One Race Films, which has produced several successful films. In addition to his acting and producing career, Diesel has been involved in several business ventures, including a clothing line and a mobile game.
Houses
The actor is very strict when it comes to his personal life. Thus, only little is known about his Beverly Hills property. The location is a hub of all the celebrities' residences. The house is located over 513 square meters and has 6 bathrooms and 5 bedrooms. The lavish features of his property are:
Tennis court

Hot Tub

Swimming lap
Cars
The real-life collection of Vin Diesel's car is extremely impressive. He is often encountered driving and performing stunts with his own cars. Some of his extravagant vehicles are:
1993 Mazda RX-7
Rolls Royce Sprinter Van
1963 Chevrolet Corvette StingRay Grand Sport
1966 Pontiac Bonneville
2010 BMW E60 M5
1970 Dodge Charger Tantrum 
2014 Lykan Hypersport
1969 Dodge Charger Daytona
Social Media
Diesel's official Facebook page has over 100 million followers. His official Instagram account has over 66 million followers. He shares pictures and videos of his family, friends, and his work on movies. The star's official Twitter account has over 24 million followers. He is a Youtuber with over 7 million subscribers. 
Conclusion
Vin Diesel is a talented actor, filmmaker, and producer who has achieved immense success in the entertainment industry. With his unique blend of multiracial heritage, charisma, and physicality, he has become a popular figure in action and science fiction movies. While he is best known for his roles in the Fast and Furious and Chronicles of Riddick franchises, Diesel has also proven his versatility as an actor in other genres.
Reference Link
Vin Diesel – FAQ's
How tall is Vin Diesel?
Vin is 5 feet 11 inches. He is primarily popular for his signature bald look. His muscular physique compliments his overall appearance. His physical measurements are biceps (46 cm), chest (132 m), and waist (87 cm).
How old is Vin Diesel?
His present age is 55 years old. Born in 1967, Vin has a fraternal twin named Paul. They were raised by their biological mother and an adoptive father. The star has no idea about the identity of his biological father.
Who is Vin Diesel married to?
Diesel is married to Paloma Jiménez, a Mexican model and actress. The couple has been married since 2007 and shares 3 children. However, the couple has kept their relationship quite private.
What race is Vin Diesel?
The celeb's ethnicity is often identified as multiracial in interviews. His mother has English, German, and Scottish descent, and his father is an African-American. Vin Diesel has also stated that he has some form of Jewish ancestry from his mother's side.
Who is Vin Diesel?
He is an American actor, producer, director, and screenwriter. His name became global recognition with the "Fast & Furious" series. He has also voiced several animated characters and produced many of his iconic movies. Besides, he is the proud owner of a series of ventures.