American professional basketball player, Zaire Wade plays for the Salt Lake City Stars in the NBA G League. He is the son of former basketball and NBA player Dwyane Wade. Zaire is the youngest player of the Salt Lake City Stars.
A quick sneak peek into the life of Zaire Wade
| | |
| --- | --- |
| Birth Name | Zaire Wade |
| Age | 20 |
| Date of Birth | February 4, 2002 |
| Place of Birth | Chicago, Illinois |
| Nationality | African-American |
| Occupation | Basketball Player |
| Net Worth | $2 Million – $3,5 Million |
| Father | Dwyane Wade |
| Mother | Siohvaughn Funches |
| Siblings | Zaya Wade |
Early Years and Education
On February 4, 2002, Zaire was born to Dwyane Wade, a former NBA player and mother, Siohvaughn Funches, in Illinois.
During his high school, he played basketball in Mount Carmel High School in Chicago, Illinois.
He played on the school's first-year team and his cousin Dahveon Morris, nicknamed the Caravans. Wade played basketball at American Heritage School in Plantation, Florida, for two years. Afterward, Wade was transferred to Sierra Canyon School, a private K–12 school in Chatsworth, Los Angeles, for his 2019–20 senior year in high school.
After completing high school, he went to Brewster Academy in Wolfeboro, New Hampshire.
Due to his focus on basketball, Wade was able to avail Brewster's nationally prominent program to capture more attention from college basketball coaches. Wade even received scholarship offers from DePaul, Nebraska, Rhode Island, and Toledo but opted to turn professional instead.
Personal Life
Zaire Wade is the eldest son of former National Basketball Association (NBA) players Dwyane Wade and Siohvaughn Funches.
His parents got separated in 2010. After his parents' divorce, Wade's custody went to his dad.
His father then married actress Gabrielle Union in 2014. He has a younger sister, Zaya Wade.
Talking about his father, who has been a fantastic basketball player in the past, Wade said," He keeps it setting different goals for me to try to reach as far as being successful. I keep telling my dad, Slow down, man, I'm trying to catch up with you, and you're making it hard for me!"
Read also : Jayden Siwa – Wiki, Family Life of JoJo Siwa's Brother
Professional Career and rankings
Wade was the 10th pick in the 2021 NBA G League draft by the Salt Lake City Stars on October 23, 2021.
Wade is a 3-star prospect, according to 247Sports' composite rankings.
He is a 296th-ranked prospect in the 2021 recruiting class, according to 247Sports.
On March 12, 2022, he was moved to the team's Injured – Short Term list.
Although his game hasn't given pundits much to talk about, still many are excited to see if the young guard could develop into a player anywhere near as explosive as his dad.
In 13 games with the Stars, Wade is second to last in points, averaging only 4.6 points per game with 1.5 rebounds and 1.9 assists to go along with it.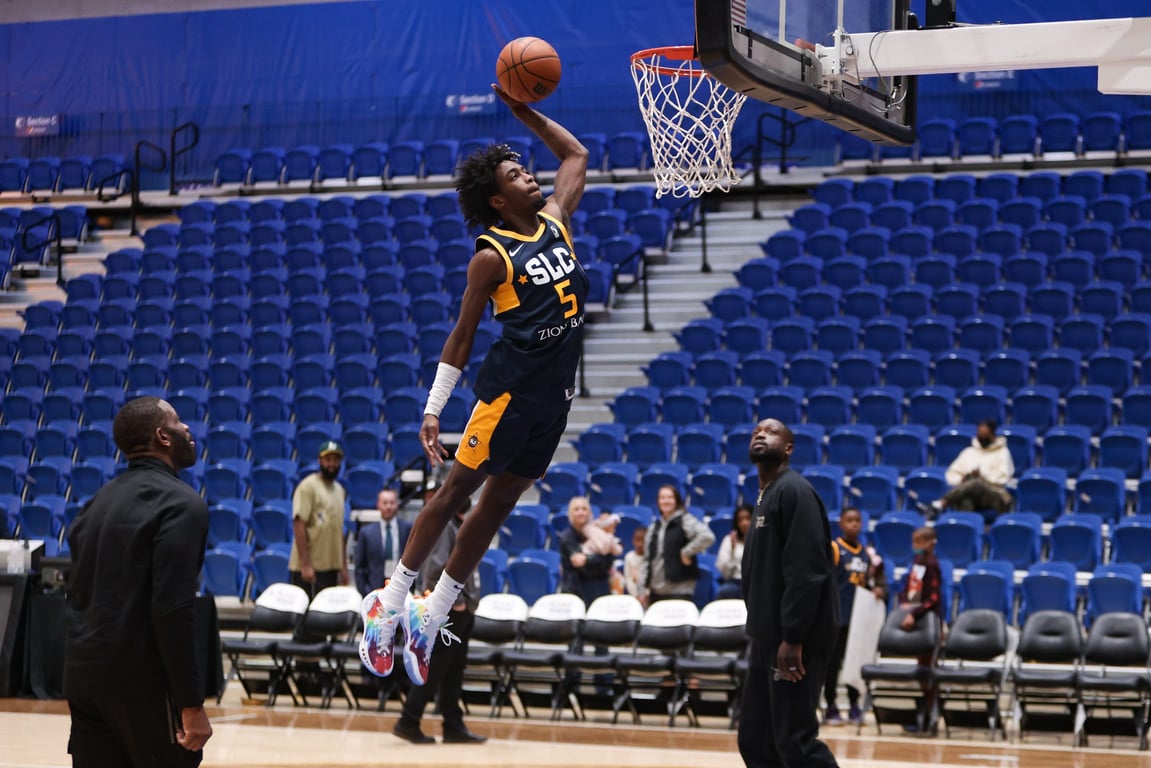 Wade's Controversy
Wade is the youngest among all his teammates and competitors, so when it was announced that the Utah Jazz G-League affiliate team, the Salt Lake City Stars, was signing the son of NBA legend Dwyane Wade, Many felt it was an act of nepotism because Dwayne Wade is currently a part-owner of the Jazz.
Read also : Esteban Loaiza, Third Husband of Jenni Rivera
Social Media Presence
Zaire Wade has 2 Million Instagram followers.
Net Worth
Zade's net worth is estimated to be around 2 million USD.
| | |
| --- | --- |
| Net Worth | $2 Million – $3,5 Million |
Reference Link
Zaire Wade- FAQs
Is Zaire Wade related to Dwyane Wade?
Yes, Zaire Wade is the son of Dwyane Wade.
Will Zaire Wade make NBA?
Wade isn't allowed to be a call-up for the Jazz. Instead, he will remain with the G League Salt Lake City Stars and develop his game at the minor-league level in a bid to impress NBA teams by next year's draft because he's still eligible for the NBA draft.
What is Zaire Wade's net worth?
His net worth is estimated to be $ 2million.
Where was Zaire Born?
He was born in Illinois, Chicago.
Who is the mother of Zaire Wade?